ITEM #: OBGS-15-208
Sale price
$22,13183
Regular price
Unit price
per
Sale
Sold out
Estimated Arrival:
5 to 7 business days
View full details
Best Price Guarantee
Return Policy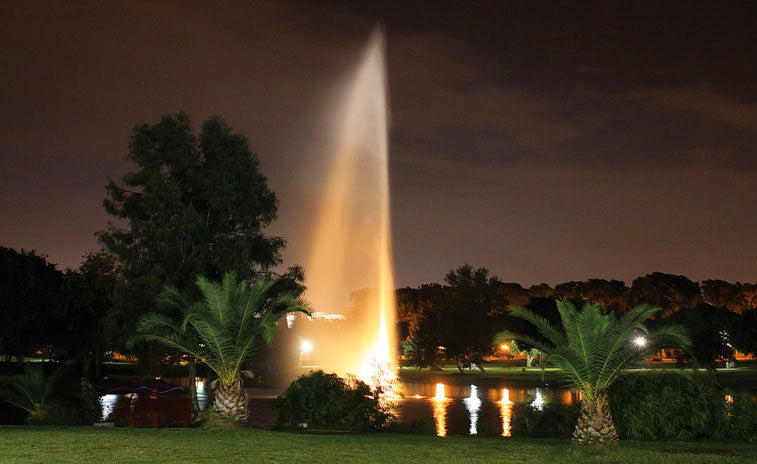 A Touch Of Elegance
We all know how important the first impression is and that's why we decided to create the Giant Fountain line. Landscape architects very often choose Otterbine's Giant Supernova Fountains whenever they need a feature that will focus everyone's attention. Whether it's an enormous garden, a public park, a resort or corporate headquarters, you can be sure that Supernova fountain will be stunning and eye-catching.
It's able to reach the height of 95 feet (27 feet) and its horizontal platform allows it to work in very shallow reservoirs - even in 40 inches (1 meter) of water. Thanks to its corrosion resistance and the possibility of a 316 st/st upgrade, it's able to withstand operating in more brackish conditions.
This efficient model is also easier to handle and install. A unique wheeled launching system improves its mobility and eliminates the absolute necessity of hoists and cranes use during installation.
It's no wonder that it's so highly-desired - this system allows you to adjust the float visibility in the water. 
Plus, it doesn't require a lot of regular maintenance, only unclogging and cleaning the screen when the need arises. 
Remember your 2-year warranty (extendable to 3 if you buy Sub-Monitor motor control option as well) and don't hesitate to contact us.
Product Specifications: Super Nova 
60Hz 
10 HP
15 HP
25 HP
Spray Height (ft)
55
70
95
Spray Diameter (ft)
1
1
1
GPM
225
350
400
Voltage/Phase/Amp

3450rpm@60Hz
230/1/35
230/3/30
460/3/15
230/1/67
230/3/44
460/3/22
230/3/70
460/3/35