ITEM #: C10
Sale price
$28900
Regular price
Unit price
per
Sale
Sold out
Estimated Arrival:
5 to 7 business days
View full details
Best Price Guarantee
Return Policy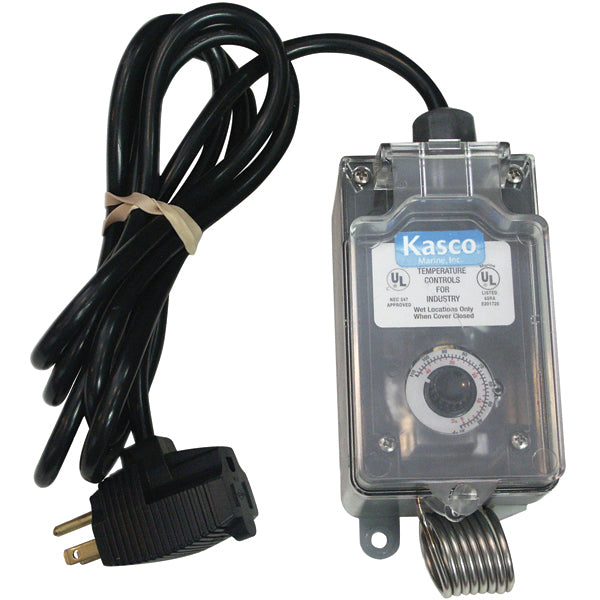 Kasco Deicers Temperature Controller
The Kasco C-10 Thermostat Controller is designed to save you money by reducing your electric bills. Over time the C-10 will actually pay for itself by simply just controlling the operation of your Kasco de-icer so that it only operates when it's needed. It's the perfect addition to a de-icing system.

Basically the Kasco C-10 utilizes an air temperature thermostat that turns the de-icer on when the temperature drops below a set point decided by you.
It's really simple to use just plug the de-icer into the Kasco C-10 Controller you then set the dial to the temperature that you require the de-icer to operate at. Once the air temperature drops to the reading that you have set the de-icer will come on automatically.
Kasco recommends setting the temperature at 30°F.
There's a built-in  2.5°F differential, When the temperature of the water rises to 2.5°F above the set level it will automatically turn off.
One Kasco C-10 Thermostat Controller  will control one 120V De-Icer.
The Kasco C-10 is the basic model that makes use of an air temperature thermostat to operate the de-icer when the temperature drops. We also stock the advanced C-20 Controller that controls both the time and temperature of the de-icer. Either model will help you save money on your power bills.
| | | | |
| --- | --- | --- | --- |
| Part # | Description | Amps/Volts | Ship Weight |
| KD12 | Deicer, 1/2 HP | 5.0/115v | 25 lbs. |
| KD34 | Deicer, 3/4 HP | 6.7/115v | 35 lbs. |
| KD34H | Deicer, 3/4 HP | 3.35/230v | 35 lbs. |
| KD44 | Deicer, 1 HP | 11.3/115v | 45 lbs. |
| KD44H | Deicer, 1 HP | 5.7/230v | 45 lbs. |
| C10 | Temperature Only Controller | N/A | 3 lbs. |
| C20 | Time and Temperature Controller | N/A | 4 lbs. |
| KDM | Dock Mount Hardware (1" pipe supplied locally) | N/A | 14 lbs. |
| KFK | Floatation Kit For Circulators/Deicers | N/A | 19 lbs. |