ITEM #: ECPDLW
Sale price
$3900
Regular price
Unit price
per
Sale
Sold out
Estimated Arrival:
5 to 7 business days
View full details
Best Price Guarantee
Return Policy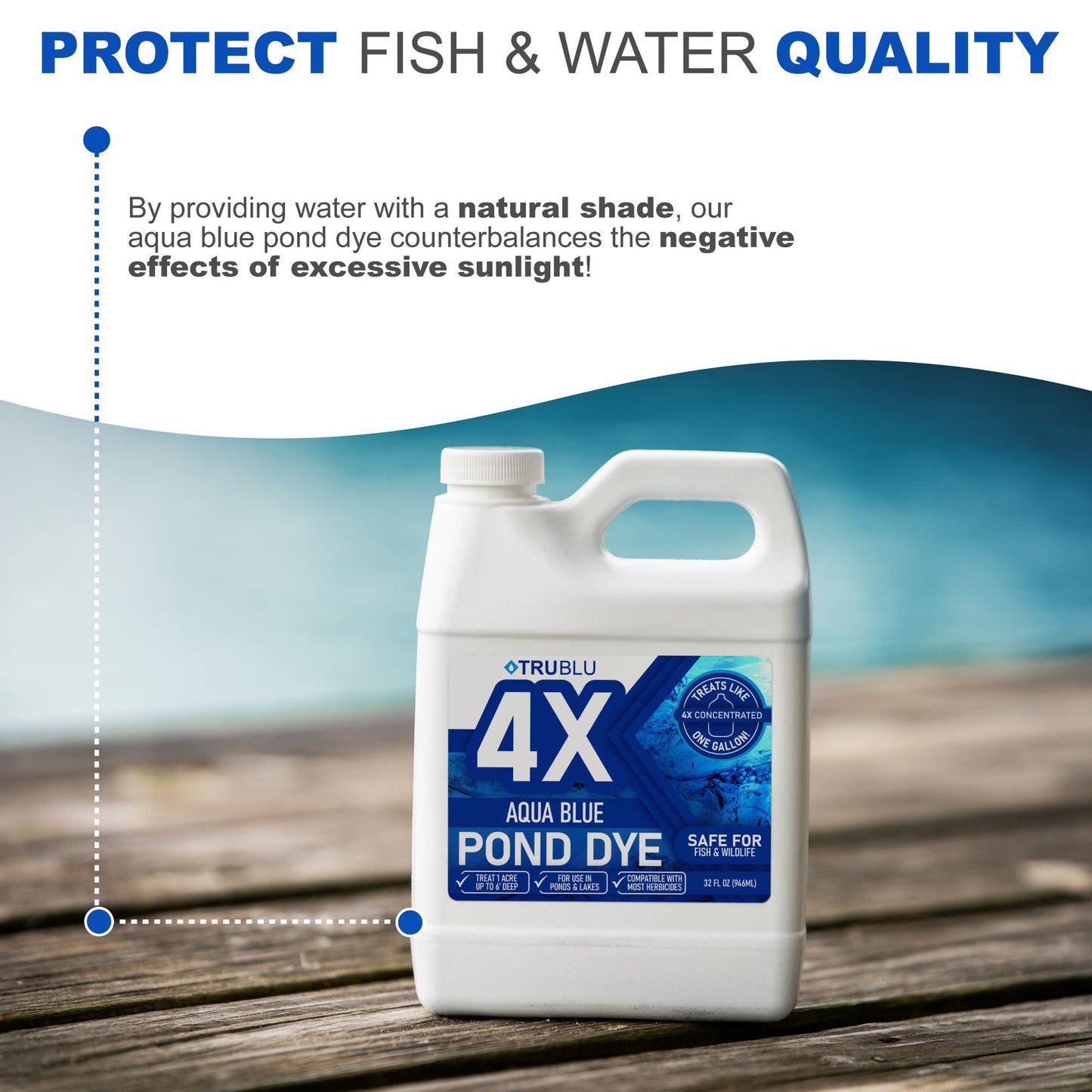 Create a Picture-Perfect Landscape: With a rich, calming aqua blue color, our lake and pond dye instantly adds a touch of scenic charm to your property! Once dispersed, it can create a stunning contrast with green landscaping, yet it won't stain fish, birds or plants.
Protect Fish and Water Quality: By providing water with a natural shade, our blue pond dye counterbalances the negative effects of excessive sunlight! Not only can pond dye shield fish from predators, but it can also keep water cool, making it easier for fish to breathe.
Easy to Use: To get started, simply pour your pond colorant along the water's edge in several different spots. This ultra-concentrated formula equals 3/4 of a gallon of similar pond dyes! One quart of pond dye will treat one acre of 3' deep water (approximately 1 million gallons).
Safe and Non-Toxic: Professional strength yet entirely harmless, our pond treatment leaves water safe for swimming and irrigation after dispersion! The pond dye is even compatible with most aquatic algaecides and herbicides, offering total convenience and versatility.
Trusted Brand: Whether you're looking for pond algae control or you simply want to transform your property into your own private getaway, Living Waters can help! If you have any problems or questions, please reach out to our friendly customer service team.
Preserve the Health and Beauty of Your Pond or Lake!
Ponds can be a beautiful addition to any property. But if they are exposed to excessive sunlight, it can cause unwanted side effects including murkiness, out-of-control algae growth and even poor living conditions for wildlife.
Boost the health of your pond or lake with TruBlu Concentrated Pond Dye from Living Water! With its aqua blue color, our formula is as gorgeous as it is tranquil. Your water will quickly become the centerpiece of your yard as the rich hue perfectly complements any natural landscape. For added safety and convenience, the pond dyes won't stain fish, birds, plants or other wildlife after dispersion.
But our water dye does more than boost aesthetics! By providing a natural shade, it creates a shield for fish against potential predators. And since it offsets the effects of excessive sunlight, it also helps control algae growth. Cooler pond temperatures also allow fish to breathe more easily. The best part? Maintaining the color is as effortless as adding dye to the water every four to six weeks. Highly concentrated and professional strength, our dye formula equals 3/4 of a gallon of similar products! One quart will treat one acre of 3' deep water, and because it's non-toxic, the pond is safe for swimming and irrigation after dispersion.
If you aren't sure how much pond dye you should add to the pond, you can experiment first. Depending on how much it rains, pond dyes will usually last a month or two. It means that even if you pour too much of it into the pond or a lake, as time passes, the color of the water will reverse back to its previous state. This way, even if you use too much blue pond dye, and the ponds water becomes intensely blue, with time things will go back to normal. If the lake or a pond where you intend to use pond dye have an irregular shape, you could use a weighted string to measure their depth.
Why Choose Our Pond Dye?
- Stunning aqua blue color
- Won't stain plants or wildlife
- Protects against excessive sunlight
- Fast-acting and easy to use
- Safe and non-toxic
Apart from making your pond look beautiful, pond dyes can also have a positive effect on the underwater ecosystem. How? Fish and other underwater organisms need oxygen to breathe. During the summer months the water becomes warmer. Unfortunately, it is usually the case that there is less dissolved oxygen when the temperature of the pond is higher. As an effect, you might notice that fish are gasping for air, and eventually suffocate. If you pour blue pond dye (or pond dye of any color) into ponds, the temperature won't be as warm. Because of that, there will be more dissolved oxygen in the pond. If that's not enough, you can find aeration systems on our website that will ensure that the ponds in your garden have enough dissolved oxygen. Pond aeration has many benefits:
Proper aeration can improve the aesthetic value of the pond. How? Aerobic that live in the ponds help decompose the organic waste at the bottom. Dead fish, fish waste, leaves - if they don't get decomposed with time, you'll notice a build up of muck at the bottom of the pond. It is especially common when it comes to larger ponds and lakes. That's because in the case of larger ponds there is less oxygen at the bottom. This in turn means that the organic waste won't decompose, and the aesthetic value of the entire pond and the water quality will suffer. Apart from that, lack of pond aeration can lead to a foul smell coming from the water. You can easily prevent that if you install aeration systems that will keep the dissolved oxygen in the pond at proper levels. This way your garden will retain its aesthetic value, and you won't have to deal with any unpleasant smells.
If there is efficient aeration and circulation in your pond, you won't have problems with algae and weeds. That's because algae won't have access to the excess nutrients, as they will be either decomposed by aerobic bacteria, or consumed by other living organisms that will prosper in ponds with enough dissolved oxygen. Apart from installing devices that will maintain pond aeration and circulation, you should avoid using fertilizers next to the pond. This way, you'll avoid providing more nutrients to algae and unwanted weeds.
Fish and other underwater animals need oxygen to breathe. The amount that they need is very small, but it doesn't mean that it cannot lead to health problems, or even death. If your pond has a ppm (particles per million) if dissolved oxygen below 3, then fish might appear sick. As we have mentioned before, the blue dye could help in this situation by keeping the temperature in the pond lower. It doesn't mean that blue dyes will help in every situation. If fish in your pond are dying, then rather than using blue dyes, you might be better off installing aerators that will drastically increase the amount of dissolved oxygen in the pond.
If you have trouble relaxing in your own garden, because flying mosquitoes are interrupting your leisure, then proper aeration of the pond could help with your problem. Why? The studies have shown that mosquitoes are less likely to lay eggs in ponds with adequate water circulation. That's not all. If you aerate your pond, you will create perfect living conditions for fish and snails. Why is it important? Fish and snails eat mosquito larvae, which means that even if mosquitoes do lay eggs in your pond, its inhabitants will prevent the mosquito population from growing. Because of that, you'll be able to walk around your garden without hearing the buzzing noise.
If you have any questions about dyes, or any products that you can find on our website, then don't hesitate to contact us! Our Customer Service Team is Standing By!
*Stock is limited. Order today to ensure availability.
Order Your Pond Colorant Now for a Breathtaking Landscape!