ITEM #: PA6SW
Sale price
$65900
Regular price
Unit price
per
Sale
Sold out
Estimated Arrival:
5 to 7 business days
View full details
Best Price Guarantee
Return Policy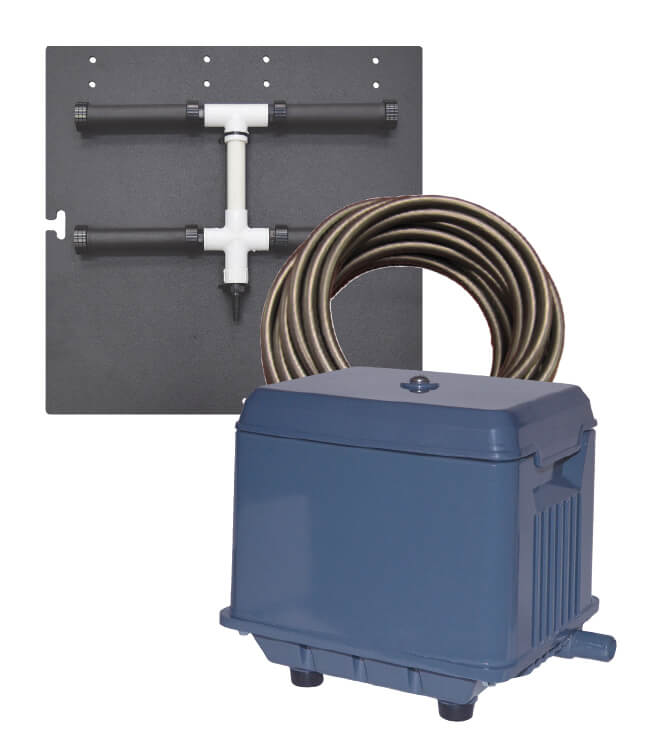 Secret To Pond Excellence
If you are looking to aerate a small pond, then this aeration kit might be a perfect choice! It is designed for ponds up to ⅜ acre in size, and up to 7 feet in depth. The compressor can run 24 hours a day; during the winter months, the device can be used to prevent the pond from freezing. With this kit, you will ensure that there is enough oxygen in your pond and that there is proper water circulation. 
You will receive:
KLC60 compressor with a 3.1 cfm that can be used outdoors, though it is best to protect it from the weather by placing it in a cabinet.

50' of ½" Quick Sink tubing that will sink by itself, which means that the installation is extra easy!

Air diffuser

3-year warranty on the compressor, and a 5-year warranty on the tubing and the diffusers
Safety & Maintenance:
Before you install or service the unit, please make sure that it is not connected to the power source.
Avoid submerging the compressor, as it would cause damage

If you notice a sudden loss of air output, just replace the diaphragms or the piston. You can find a variety of repair kits on our website.
For the best results, place your aeration system between the deepest and the shallowest parts of your pond: if the deepest part of your pond is 4 feet, and the shallowest is 2 feet, place your aeration system around 3 feet depth. 
If you have any questions, give us a call!