ITEM #: PA8SW
Sale price
$67900
Regular price
Unit price
per
Sale
Sold out
Estimated Arrival:
5 to 7 business days
View full details
Best Price Guarantee
Return Policy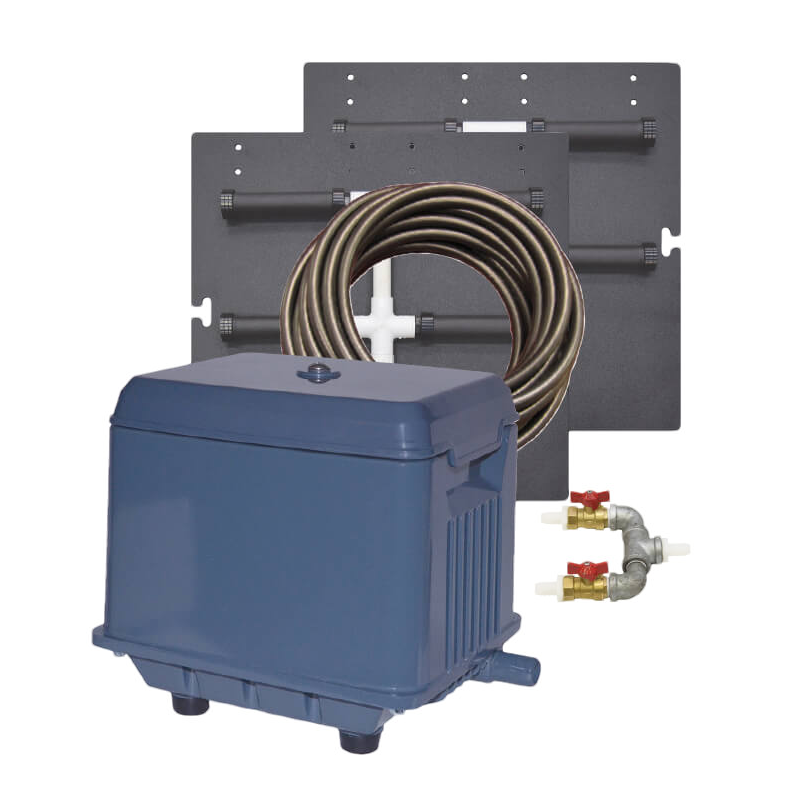 This aeration kit is perfect for ponds up to 0.5 acres and with a maximum depth of 7 feet. The KLC80 compressor, with the cfm of 3.7, is very quiet, and won't ruin the magical atmosphere of your garden with a loud noise. It can run 24/365, and during the colder months, it can be used as a de-icer! 

You will receive 100' of 0.5'' Quick Sink tubing that is extremely easy to install - it will sink by itself! The aeration kit will ensure that there is enough oxygen in the water, which will create perfect conditions for fish, and ensure that there is proper water circulation.
The compressor is weather-resistant, although it's best to place it inside a cabinet. Remember that if you do so, you also need the cooling fan to avoid damages. The manufacturer has also included a 3-year warranty on the compressor, and a 5-year warranty on the tubing and the diffusers.
The aeration kit doesn't require a lot of maintenance. It might be possible that with time, you might notice the loss of air output. If that's the case, just replace the diaphragms or the pistons - you can find repair kits on our website.
A couple of safety tips for you: 
Always unplug the unit from its power source before installing or servicing

Do not submerse the compressor. Keep away from water, above surface level or any area that favors the creation of puddles. 
If you have any more questions, please feel free to get in touch with us. Our team of experts will be happy to answer all of them.