ITEM #: BWM16W
Sale price
$2,77499
Regular price
Unit price
per
Sale
Sold out
Estimated Arrival:
5 to 7 business days
View full details
Best Price Guarantee
Return Policy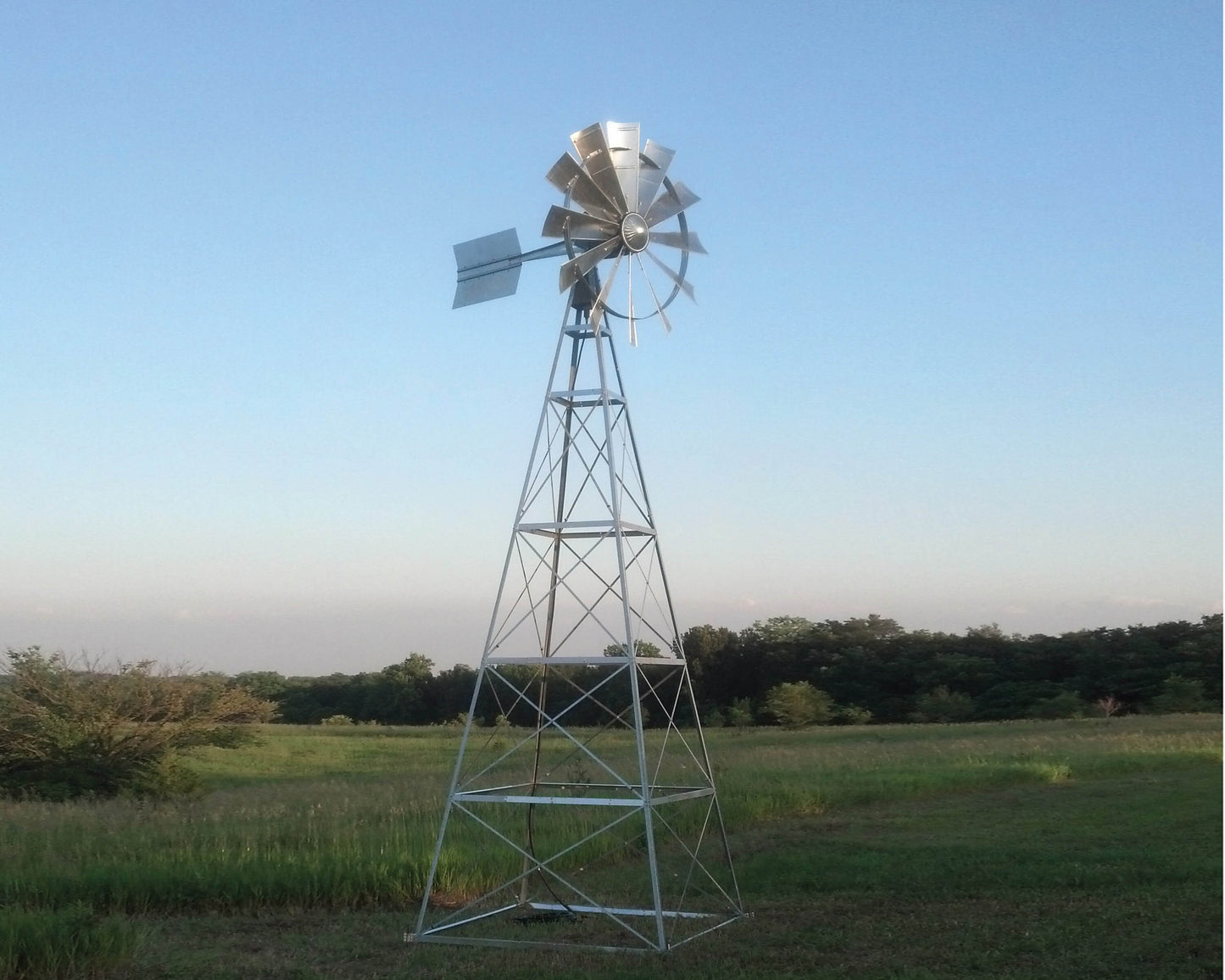 Let Mother Nature aerate your pond!
16′ Four Legged Windmill – High Volume Windmill Pond Aerator – Proudly made in the USA!
This windmill tower looks more like traditional farm windmills and is more stable than the three legged units. This unit also pumps a large volume of air and has high pressure capability due to large head size for deeper ponds. One piece welded steel hub secures easily to windmill. Windmill aerators can save $30 to $50 per month in electrical costs, paying for themselves in a few short years.
This kit includes the 16′ Becker Windmill, 50′ of poly tubing, 100′ of Quick Sink Tubing, a dual head Quick Sink Diffuser (QS2) and hinge set (BWHS).
Four Leg – High Volume Windmill Pond Aerator
Includes 50′ of poly tubing, 100′ of Quick Sink tubing and dual head Quick Sink diffuser (QS2)
6′ diameter head with 12 blades, tapered blade design allows windmill to turn in low wind and yet produce large air volume in high winds.
Windmill pumps 2.9 CFM @ 9 MPH wind, up to 5 CFM in higher winds!
Over-speed protection – tail section turns head 12° – 15° away from wind to protect during high wind conditions
Includes 48″ long anchor stakes
NEW FOR 2020! Hinge kits included with 16′ and 20′ units
5′ – 8″ square base footprint, 19′ overall height
Starting in 2020, 16′ and 20′ windmills include a hinge set for easier installation and maintenance
Maximum pressure of 30 psi
Ideal for aerating remote ponds with no electricity nearby
Windmills can sit up to 1000′ away from pond's edge – use extra poly tubing to get to pond edge
Can ship via FedEx/UPS ground – ships best via LTL when available
Red Stripe Kit – sold separately
Five year limited warranty