ITEM #: PA100W
Sale price
$3,79500
Regular price
$4,25900
Unit price
per
Sale
Sold out
Estimated Arrival:
5 to 7 business days
View full details
Best Price Guarantee
Return Policy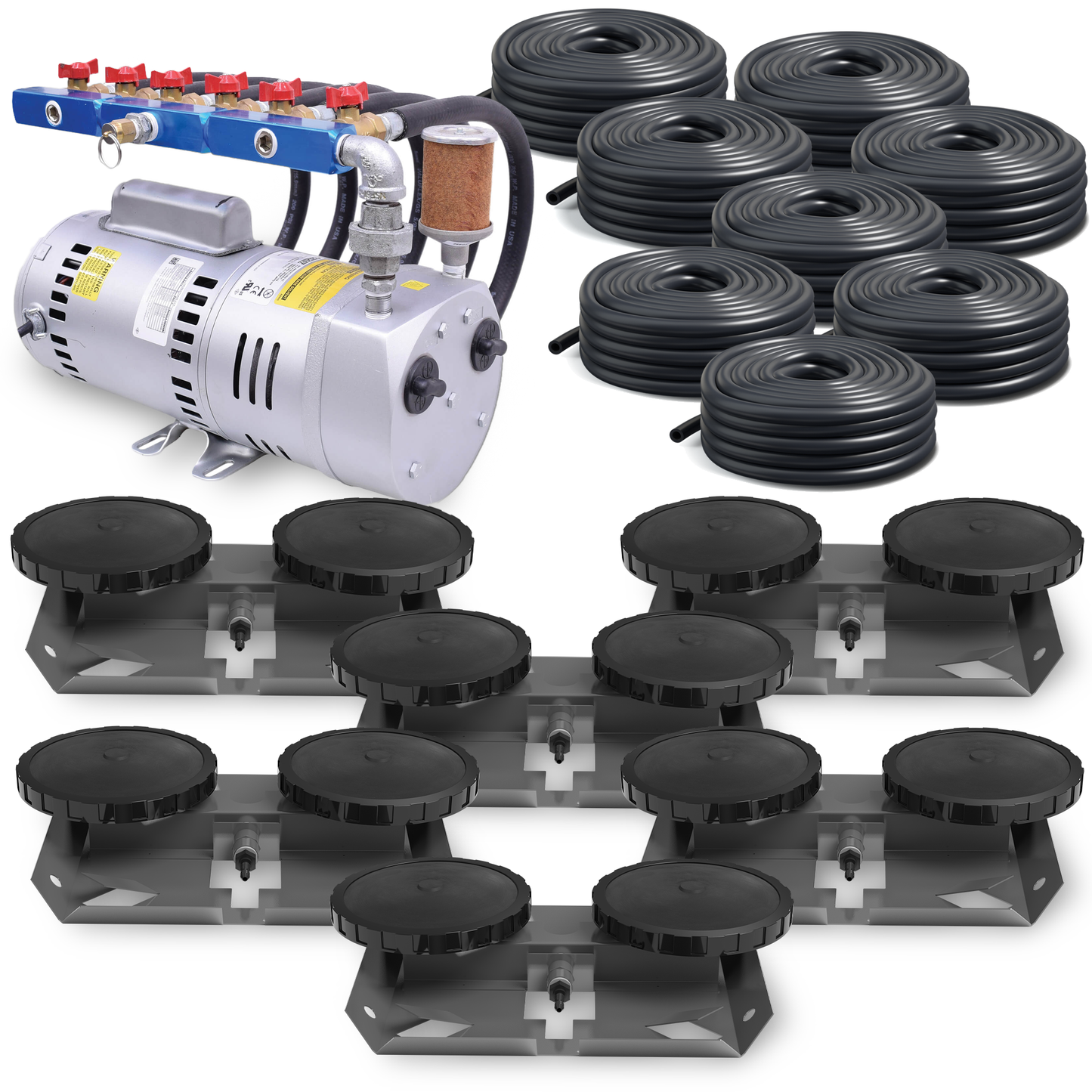 Living Water Aeration pond aerators are efficient, affordable and safe systems for circulating and adding oxygen to large volumes of water.  Our pond aeration systems are guaranteed to increase oxygen levels in your pond. These systems de-stratify, prevent oxygen depletion and fish kills. With no electricity in the water, our pond aeration systems are safe for any type of water recreation.

Easily aerate multiple ponds w/ this one unit!

Kit Includes:

1 HP Gast Rotary Vane Compressor 65db
(6) Dual head air diffusers
Valved outlets
Fittings and clamps
800' weighted tubing
Can also be used as a de-icer in the winterime
13.5 CFM
14 amps @115v
7 amps @230v
Benefits:
Elimination of foul odors from undesirable dissolved gases
Elimination of low oxygen fish kills
Reduced nutrient levels and associated algae growth
Reduced aquatic midge and mosquito insect hatches
Oxidized/reduced organic bottom muck
Improved fisheries by expanding oxygenated habitat
Increased oxygen levels throughout water column
Safe entry - no electricity in the water, GFI protection on all circuits
Sizing Chart:
| | |
| --- | --- |
| Max Depth | Max Pond Size |
| 5-8 feet     | 3.5 acres |
| 8-12 feet  | 6 acres |
| 12-18 feet |   9 acres |
Safety:
The compressor comes with weighted tubing, making it easy to install: The tubing will sink by itself to the bottom of the pond without the need of any additional weight making it invisible to the eye. It will also decrease the chances of the airline being snagged by fishing lines or swimmers. Because there is no electricity in the pond, this diffused aeration system is completely safe for people or wildlife near and in the water.
Maintenance:
The only maintenance needed being the replacement of diaphragms when needed.
Repair kits are available on our website
. (a noticeable and sudden drop in air bubbles after a few years of operation is a sure sign that the diaphragms need to be replaced).

Be sure to clean the inlet air filter on your compressor regularly. Wash dirty air filters in soapy water. Replacement filters are available on our website as well.
Pond Aerator Installation:
An illustrated instruction guide is available to

 
view here
. 

 
Click here to access a downloadable PDF version.
PLEASE, NOTE
This type of compressor needs to be protected against weather (rain, snow or other elements) for it can cause irreversible damages. It is essential that you provide a shelter to protect your compressor (a waterproof cabinet either made of steel or of polyethylene- see under Cabinets or Deluxe Kits for more information).
Also, make sure that your compressor does not sit directly on the ground but is elevated slightly above ground: dirt and dust could cause damage to the engine.   
Any cabinet sheltering an aeration system should also be adequately ventilated with a fan to avoid any kind of overheating.
Feel free to call us if you are unsure of what kit to purchase and we will be happy to assist you: 1.888.775.2402
Try It Today Risk Free with Our Unbeatable Warranties!
*Stock is limited. Order today to ensure availability.
Order Your System Now and Keep Your Pond Clear!