ITEM #: PA75D
Sale price
$3,39500
Regular price
$3,85500
Unit price
per
Sale
Sold out
Estimated Arrival:
5 to 7 business days
View full details
Best Price Guarantee
Return Policy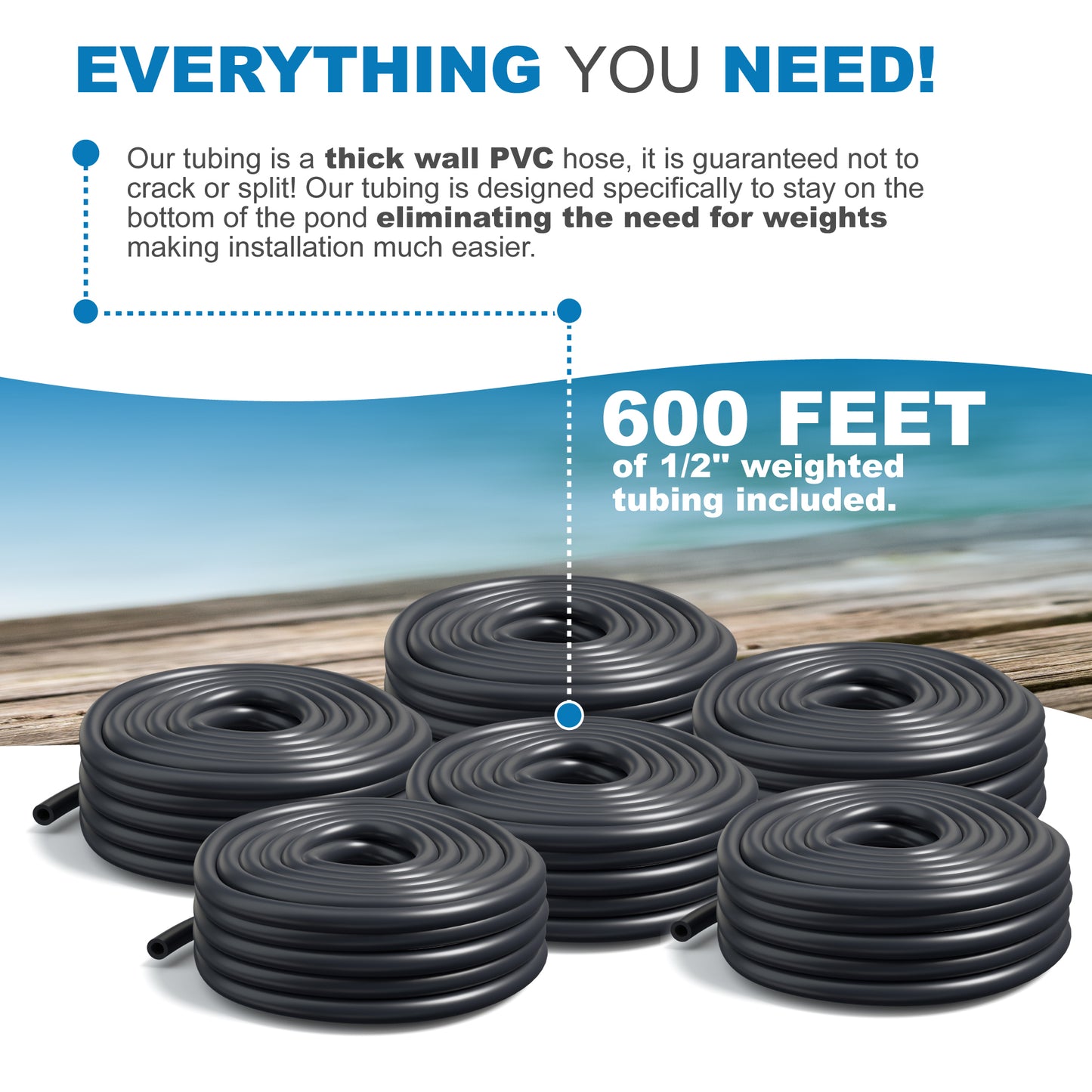 With the correct depths, this aerator can operate on ponds that are of up to six acres big. This AirPro aerator is equipped with a rotary vane compressor that is guaranteed to work for years. The kit would also be a perfect option to aerate two smaller ponds. It will cost you less than buying two smaller ones. And your pond needs some extra oxygen to create an ideal habitat for fishes and plants, as well as reduce pollution. The rotary compressors are recommended for ponds that are less than 18' deep.
The kit comes with easy installation tools including 600 feet of 1/2" weighted tubing, that will sink itself. The cooling fan and electrical equipment are pre-installed to ensure comfort during the installation process. Please note that there is no electricity being installed in the water, so the pond is perfectly safe after the placement of the aerator. 
When it comes down to maintenance, all you have to do is replace the vanes from time to time and clean the filter regularly. The best way to clean the filter is to soak it in soapy water. You can also find some repair kit on the website if you ever need them, as well as many accessories. 


Kit Includes:

Large Cabinet with fan & oil pressure gauge
3/4 Gast Rotary Vane Compressor 

65db

Valved outlets (to control air flow between diffusers)
1/2'' weighted tubing  - 600 ft.
4 - dual head air diffusers with check valves
Underlay
Fittings and clamps
| | |
| --- | --- |
| Max Depth | Max Pond Size |
| 5-8 feet     | 3 acres |
| 8-12 feet  | 4.5 acres |
| 12-18 feet |   6 acres |

Pond Aerator Installation:
Installation Instructions are available in our brochure.
Click here to access a downloadable PDF version.
We also have an illustrated guide that walks you through step by step.
Click here for access to the illustrated guide.
Feel free to call us if you are unsure of what kit to purchase and we will be happy to assist you: 1.888.775.2402
Try It Today Risk Free with Our Unbeatable Warranties!
*Stock is limited. Order today to ensure availability.
Order Your System Now and Keep Your Pond Clear!