ITEM #: PA65D
Sale price
$1,92500
Regular price
$2,14900
Unit price
per
Sale
Sold out
Estimated Arrival:
5 to 7 business days
View full details
Best Price Guarantee
Return Policy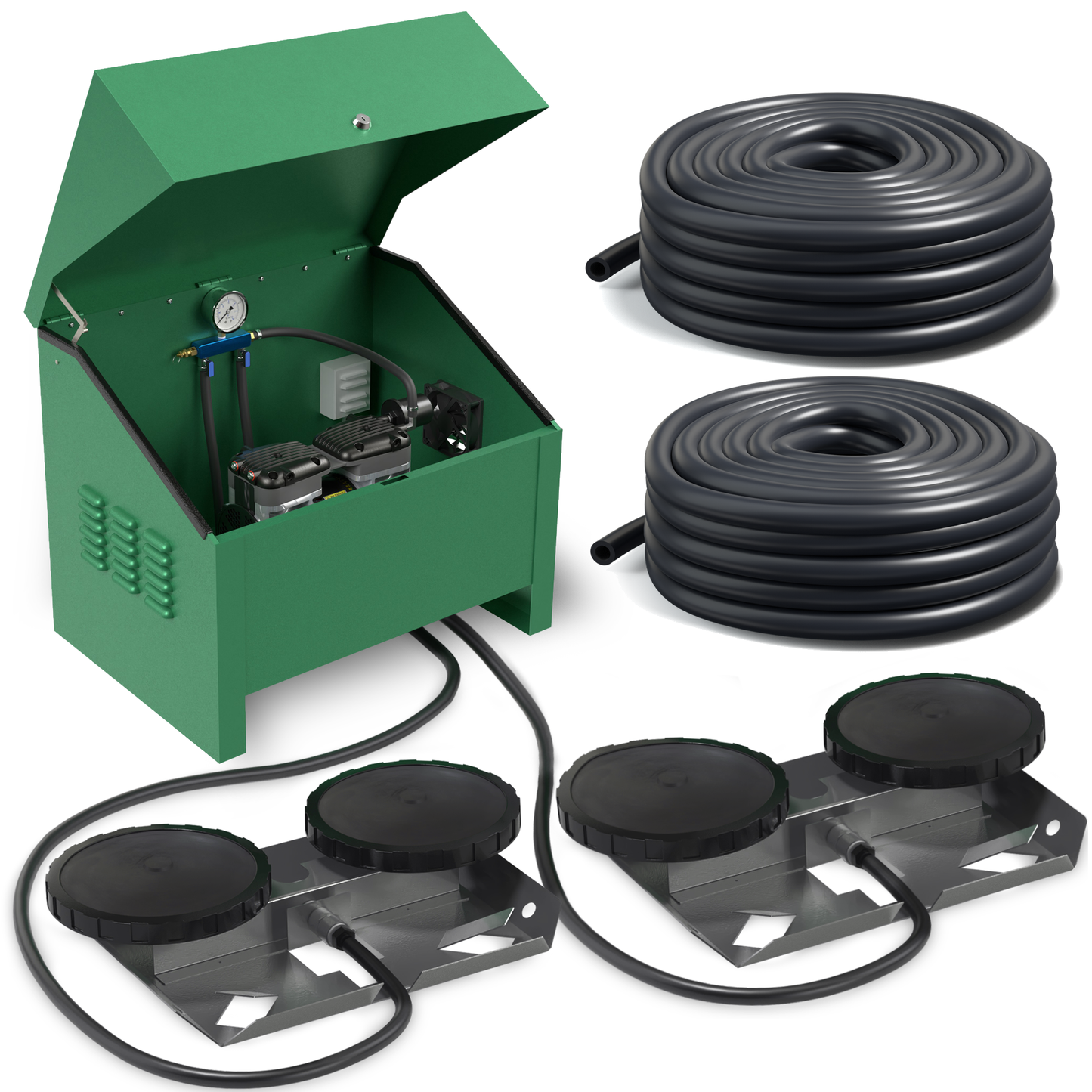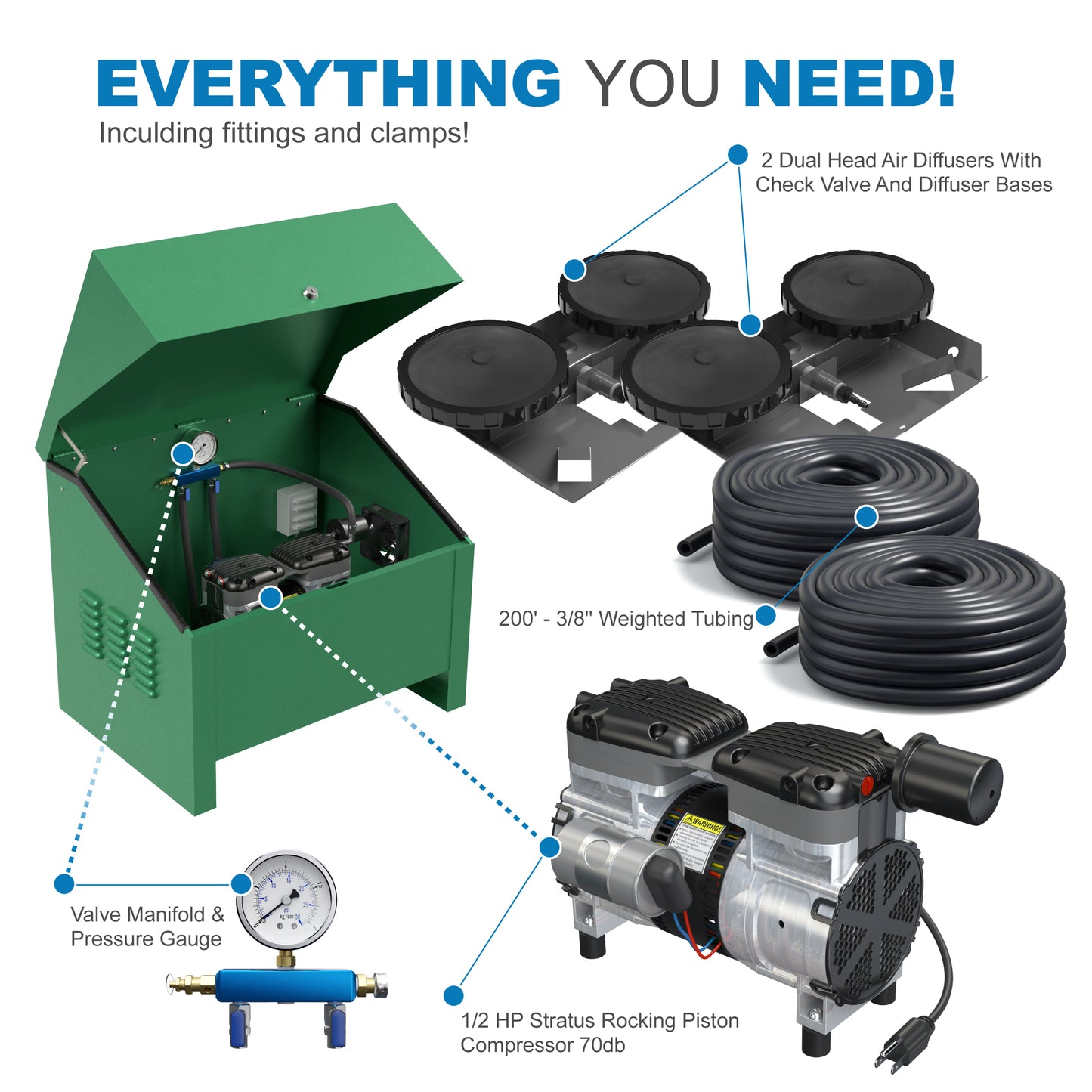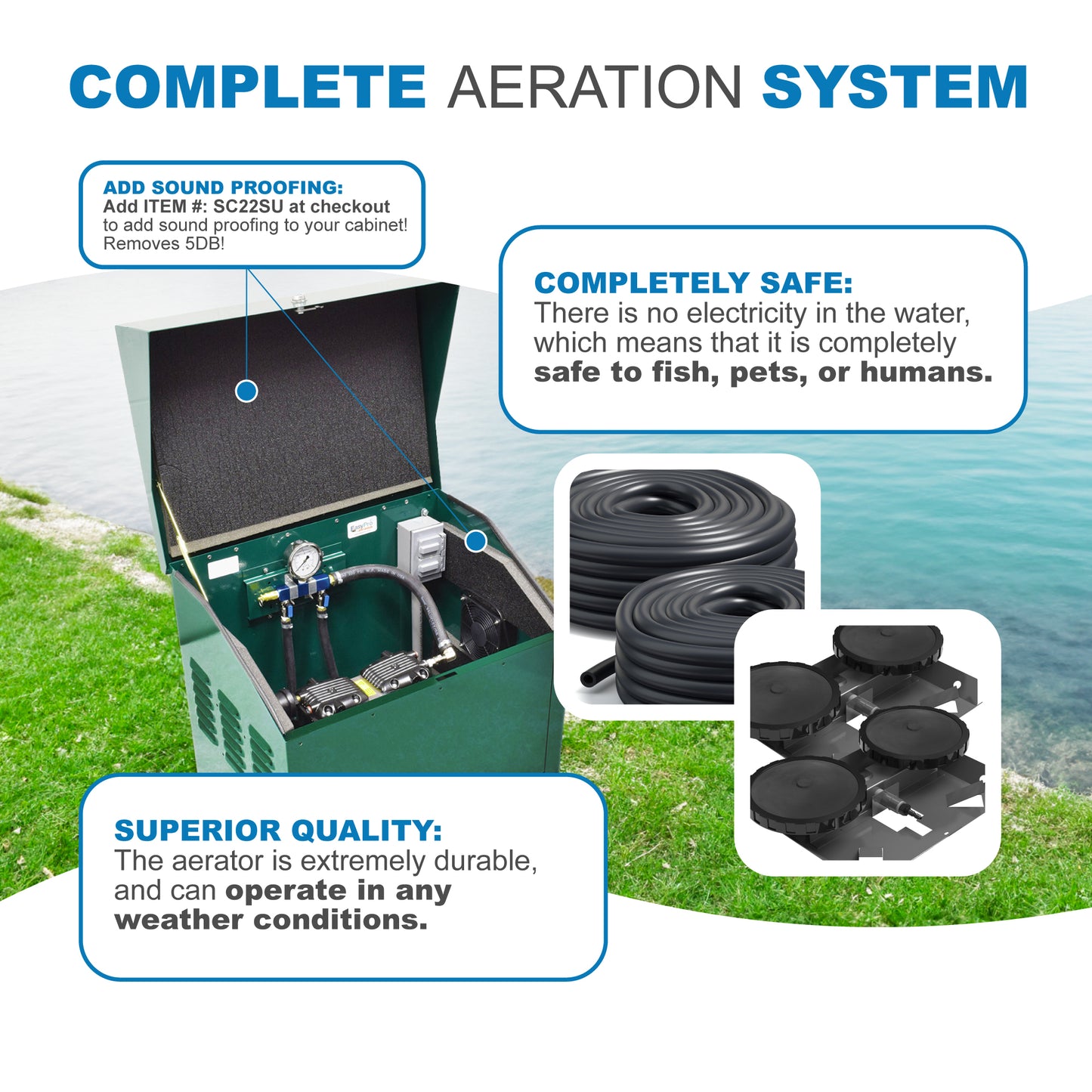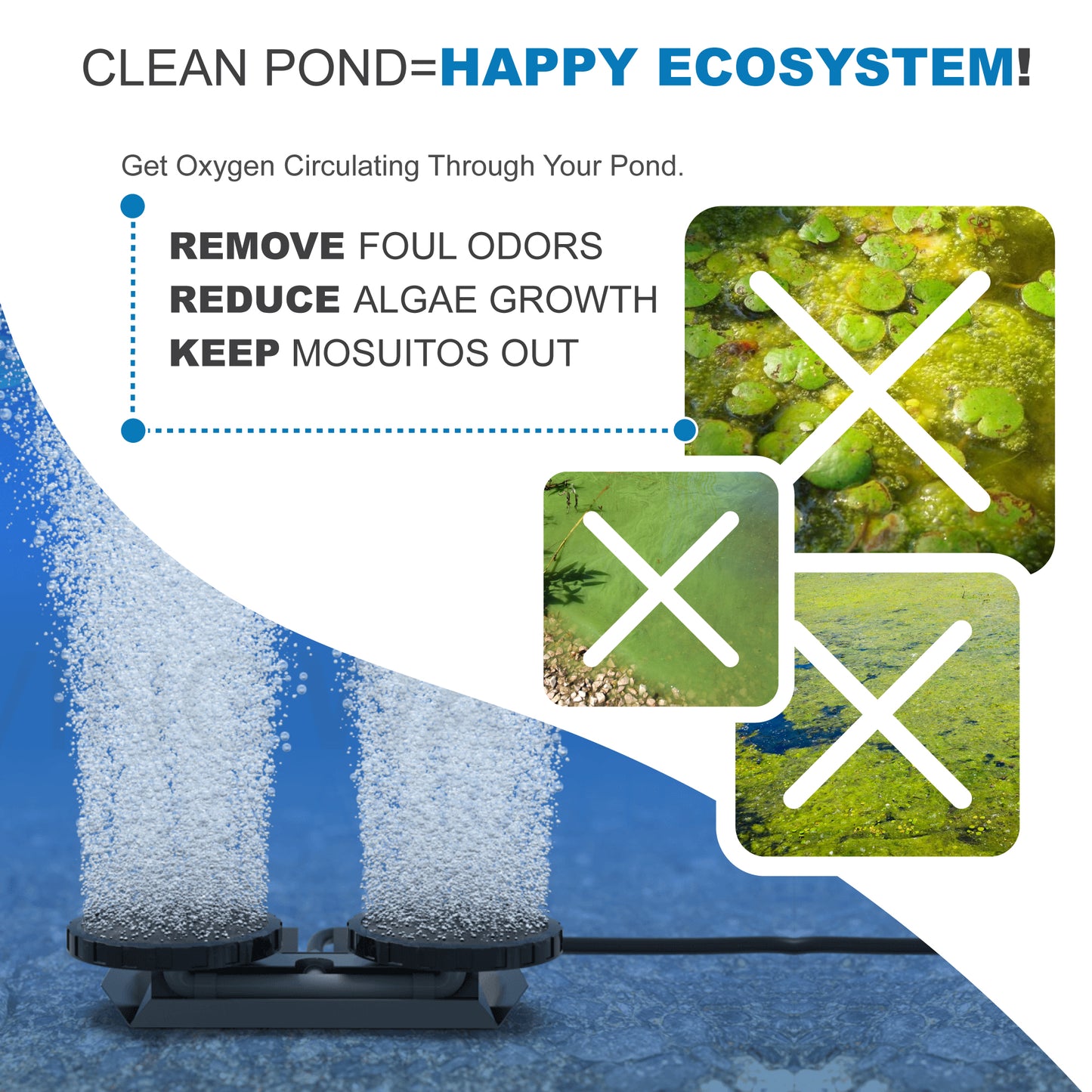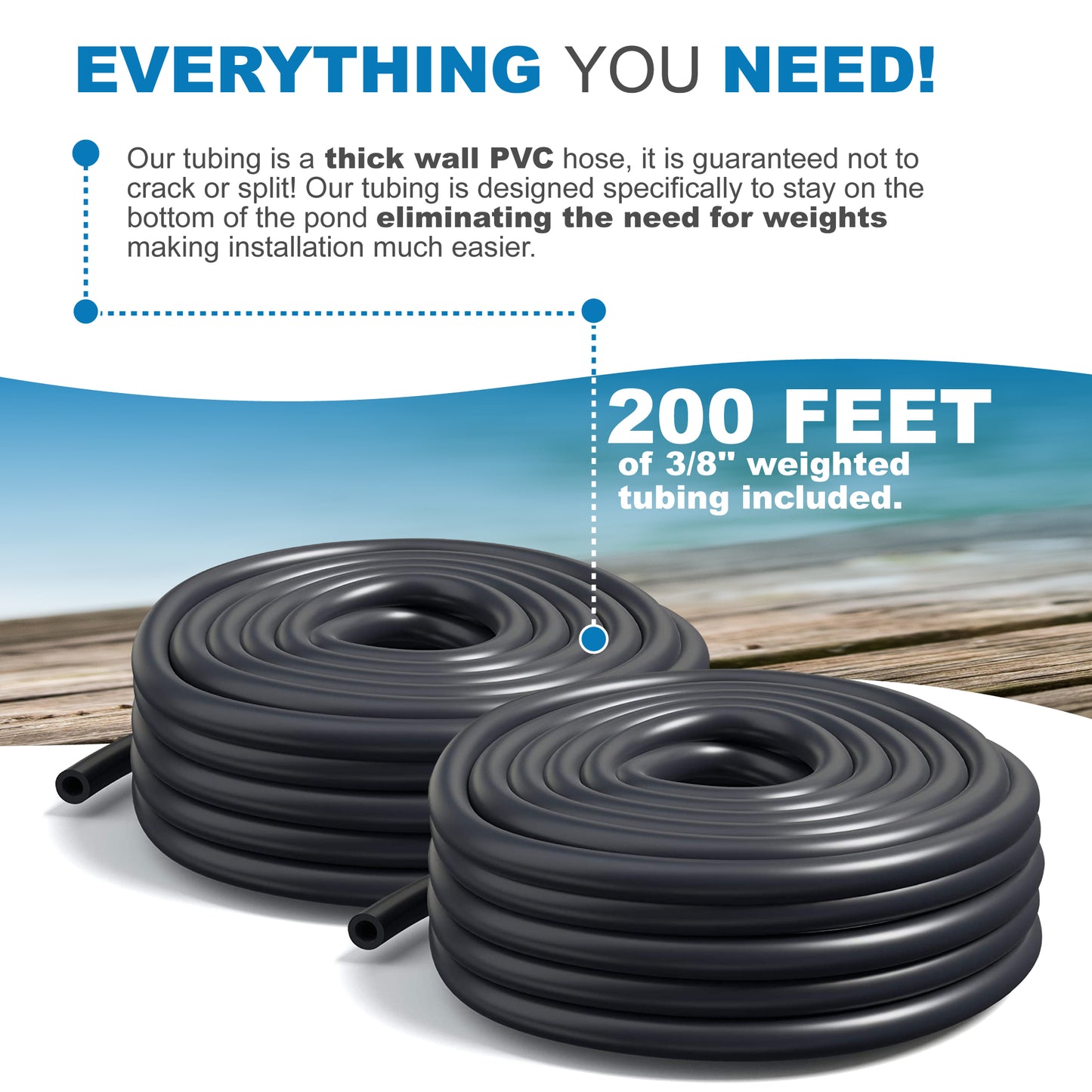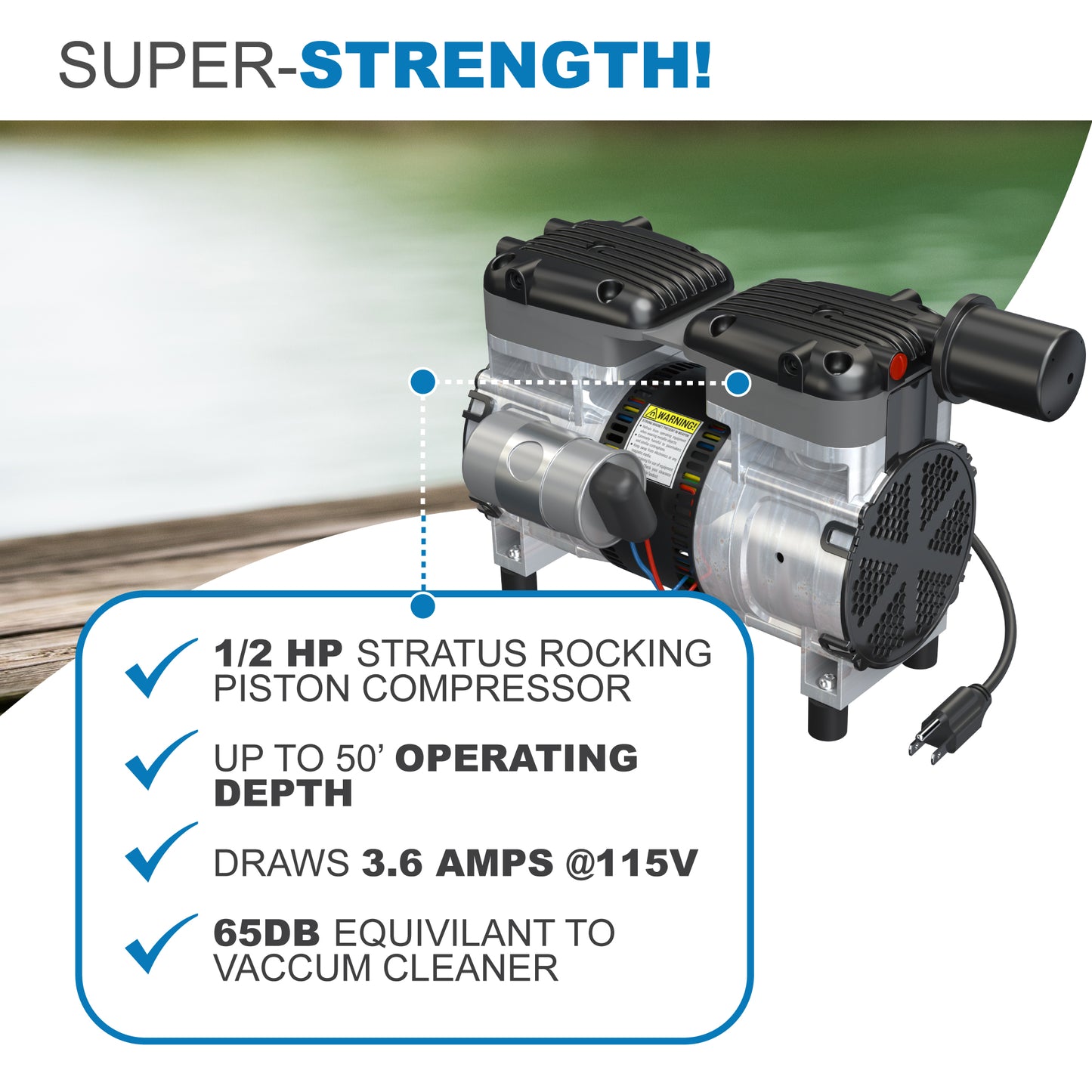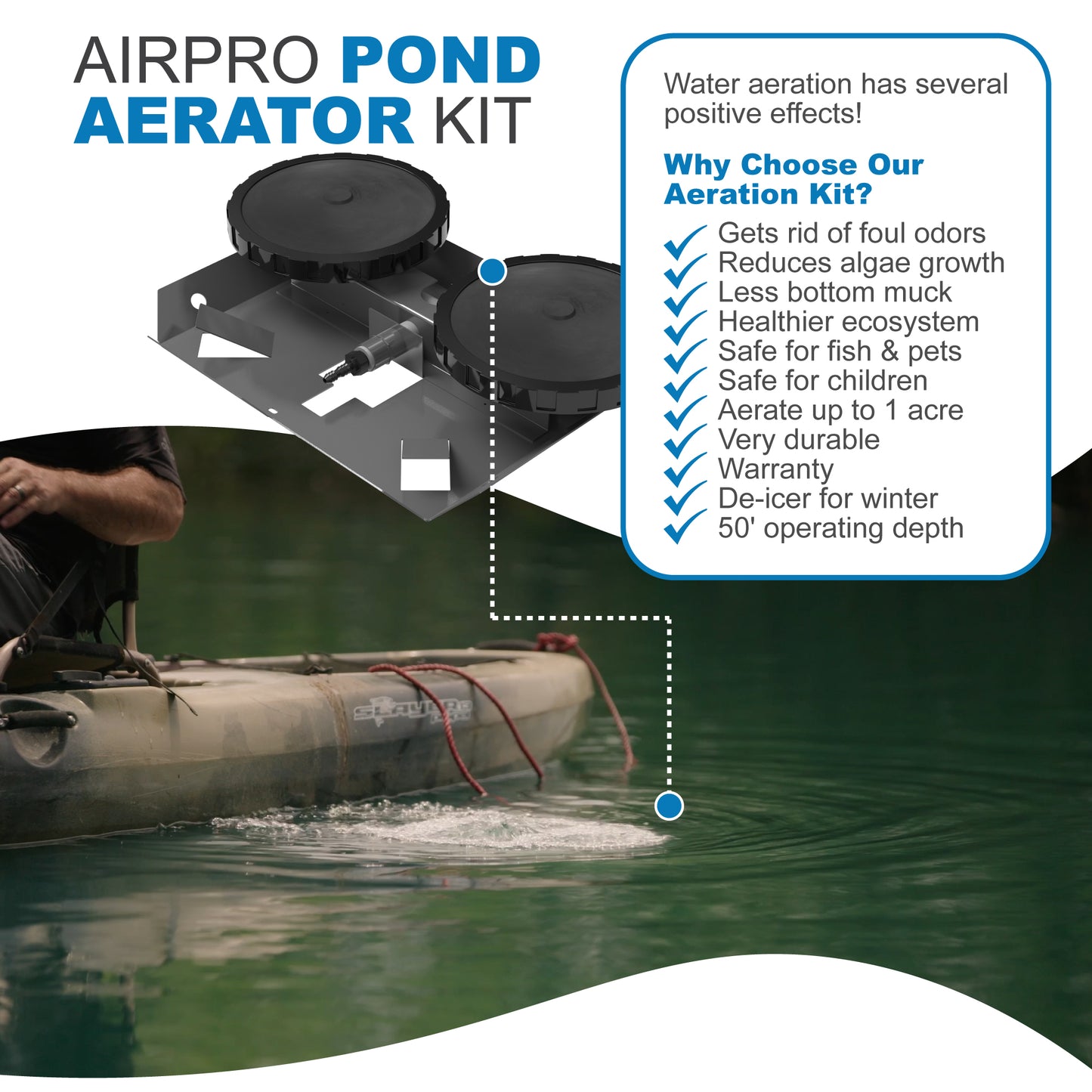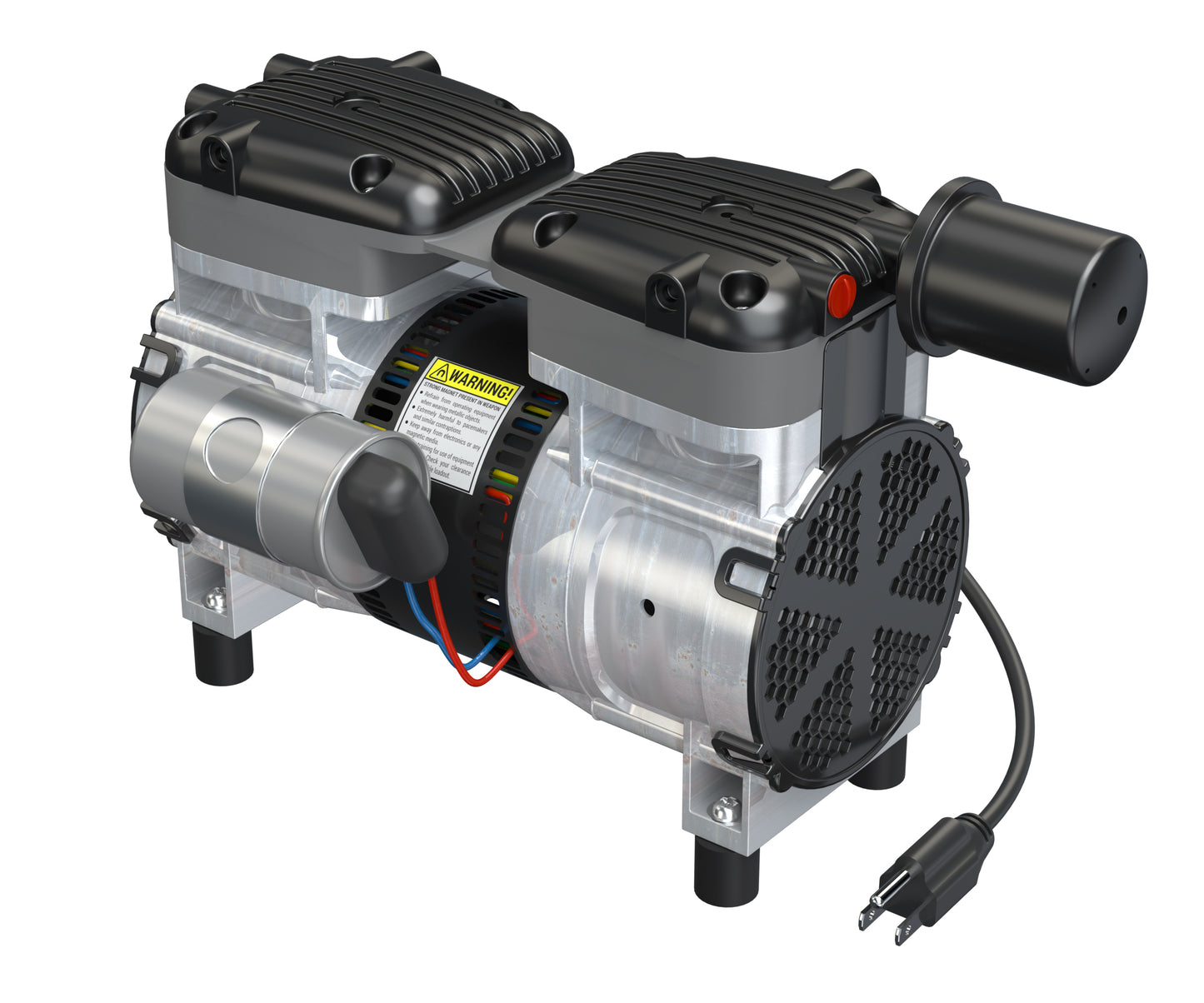 This deluxe pond aerator kit is an absolute must-have if you want your pond to stay clean and healthy. It maintains oxygen on the optimal level which creates the perfect environment for fish and plants, and it reduces nutrients and algae growth.

For the maximum efficiency, install this aerator 5-8 feet deep for a ¾ acre pond, 8-12 feet for a 1 ½ acres pond, and 12-25 feet for a 2 ½ acres pond. However, its rocking piston compressors are able to operate as deep as 50'.
It's extremely easy to install this Living Water Aeration set, plus, it's safe because no electricity gets underwater. It comes with weighted tubing (200 feet of 3/8") which will sink by itself, become invisible for the observer and the airline will be unreachable for fishing lines or swimmers.
Every 3 to 5 years replace the piston cups. You can get a proper repair kit on our website as well. You only need to remember to clean the filter with soapy water regularly - that way, it will be able to last longer. That's all when it comes to maintenance - it won't take too much of your precious time.
What's more, this highly-efficient aerator can also serve as a de-icer during colder months, so you don't have to spend money on another device. 
Kit Includes:
Large Cabinet with fan & oil pressure gauge

1/2 HP Stratus Rocking Piston Compressor (Made in the USA) 70db

200' - 3/8'' weighted tubing

(2) Dual Head Air diffusers with check valve and diffuser base

2 Way Valved Outlet

Can aerate up to 50' deep

5.1 CFM

3.6 amps @115v

1.8 amps @230v

Fittings and clamps

In the winter can be used as a de-icer

2-year-warranty!
| | |
| --- | --- |
| Max Depth | Max Pond Size |
| 5-8 feet     | 3/4 acre |
| 8-12 feet  | 1 1/2 acre |
| 12-25 feet |   2 1/2 acres |
Safety and installation:
This aeration system comes with 200 feet of 3/8" weighted tubing, making it easy to install: The tubing will sink by itself to the bottom of the pond without the need of any additional weight making it invisible to the eye. It will also decrease the chances of the airline being snagged by fishing lines or swimmers. Because there is no electricity in the pond, this diffused aeration system is completely safe for people or wildlife near and in the water.
Maintenance:
The only maintenance needed being the replacement of piston cups, they typically last 3 to 5 years. Repair kits are available on our website (
click here for more information
) at a very affordable price (a noticeable and sudden drop in air bubbles after a few years of operation is a sure sign that the diaphragms need to be replaced).
Be sure to clean the inlet air filter on your compressor regularly. Wash dirty air filters in soapy water. Replacement filters are available on our website here.
Pond Aerator Installation:
Installation Instructions are available in our brochure.
Click here to access a downloadable PDF version
.
We also have an illustrated guide that walks you through step by step.
Click here for access to the illustrated guide.
Feel free to call us if you are unsure of what kit to purchase and we will be happy to assist you: 1.888.775.2402
Try It Today Risk Free with Our Unbeatable Warranties!
*Stock is limited. Order today to ensure availability.
Order Your System Now and Keep Your Pond Clear!