ITEM #: PA100D
Sale price
$4,49500
Regular price
$5,01500
Unit price
per
Sale
Sold out
Estimated Arrival:
5 to 7 business days
View full details
Best Price Guarantee
Return Policy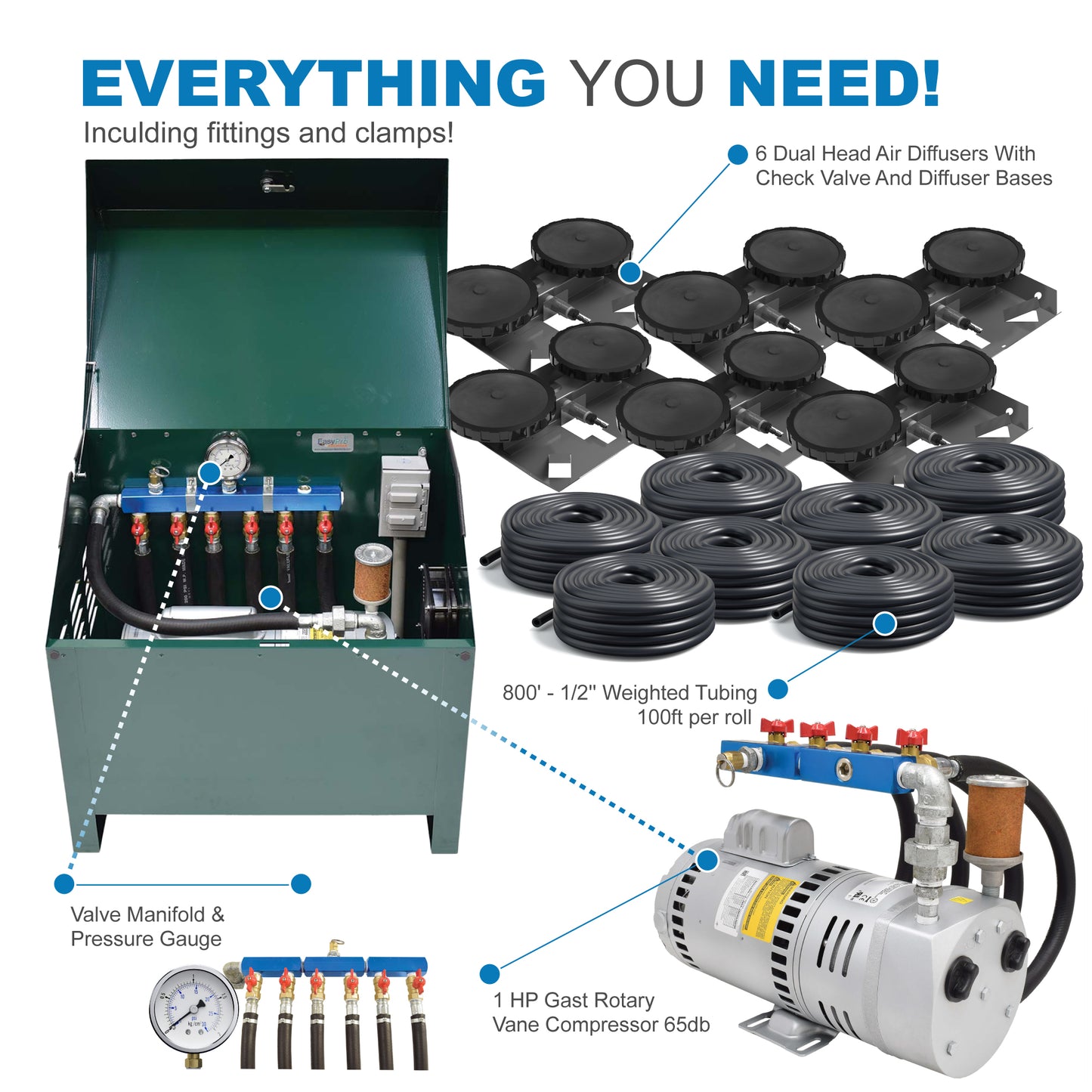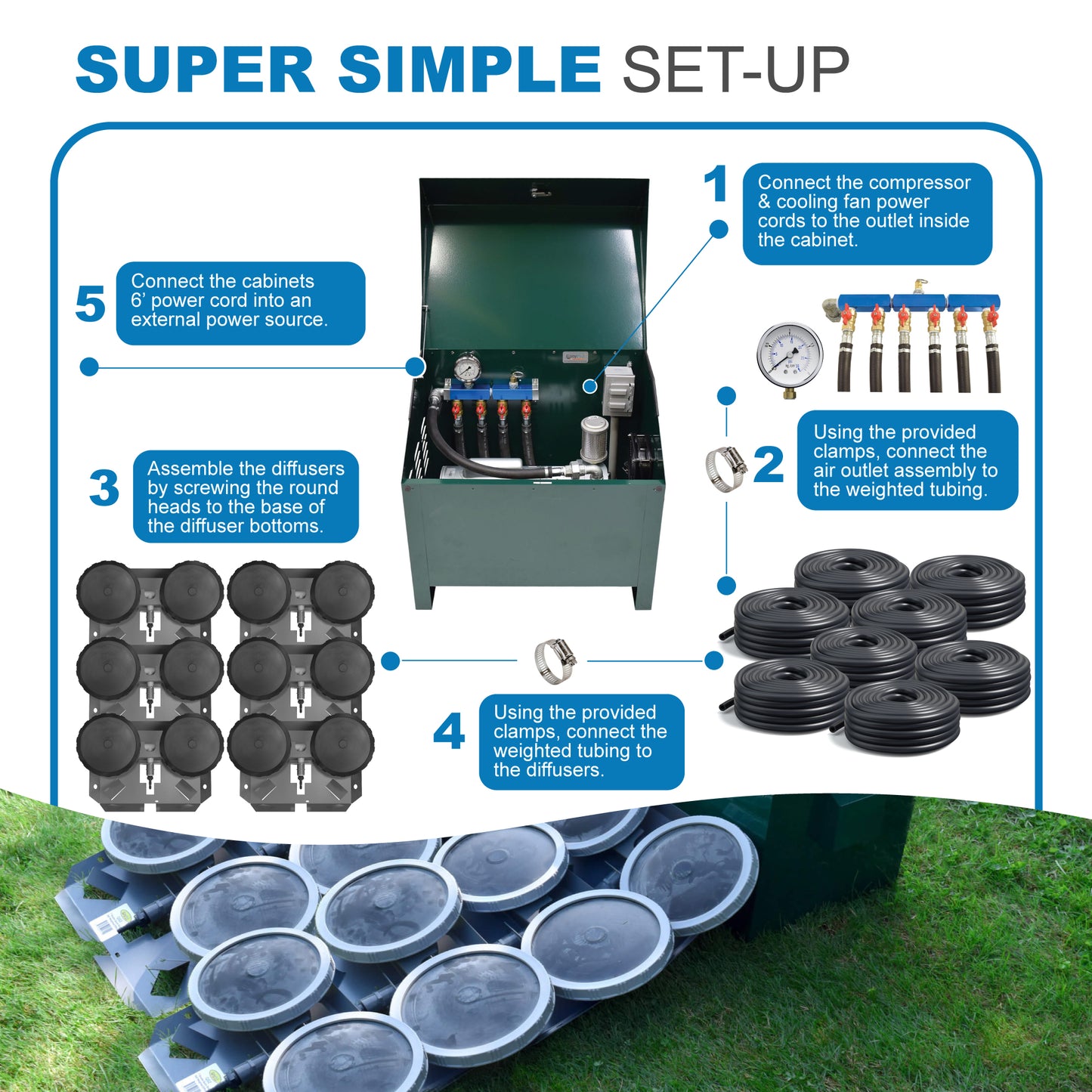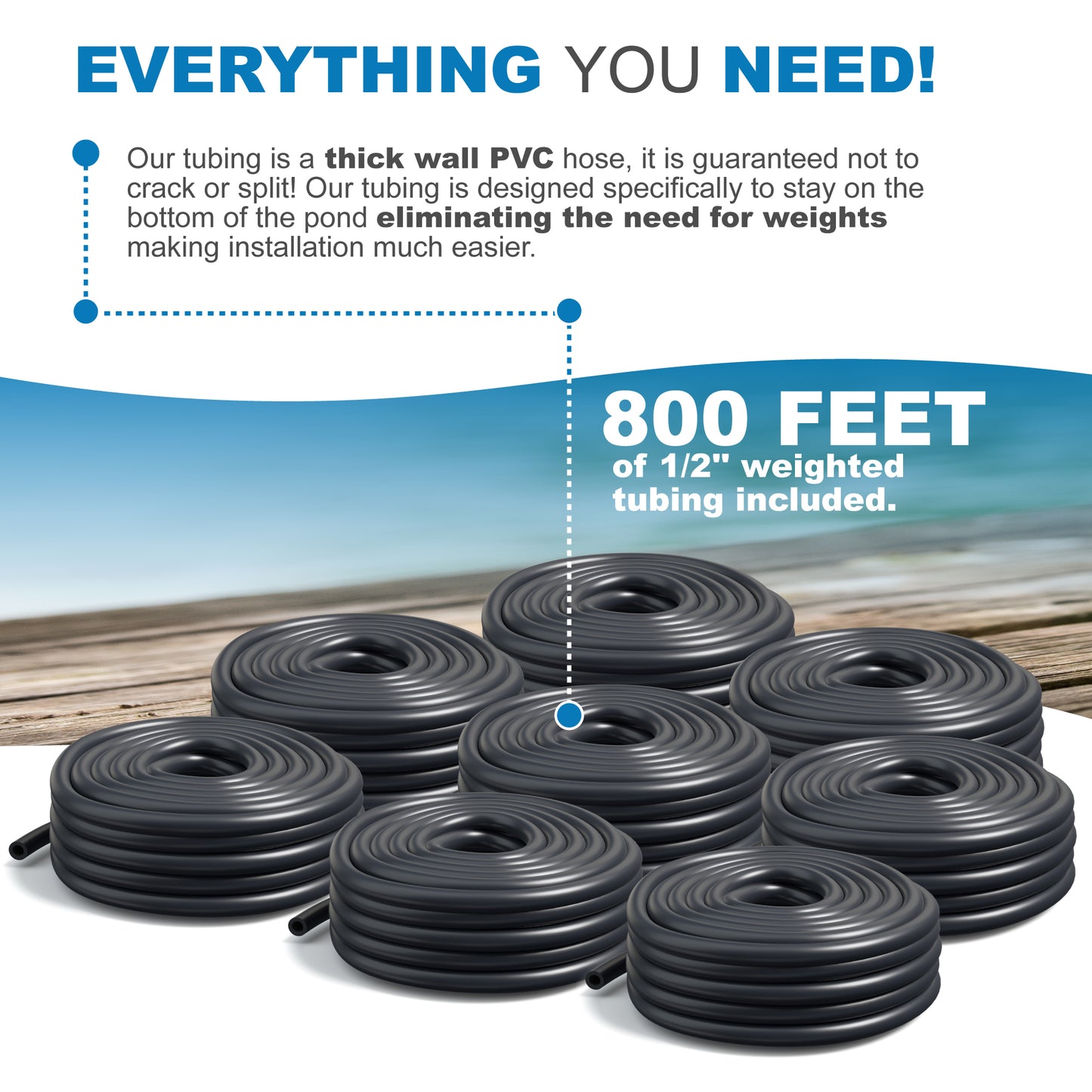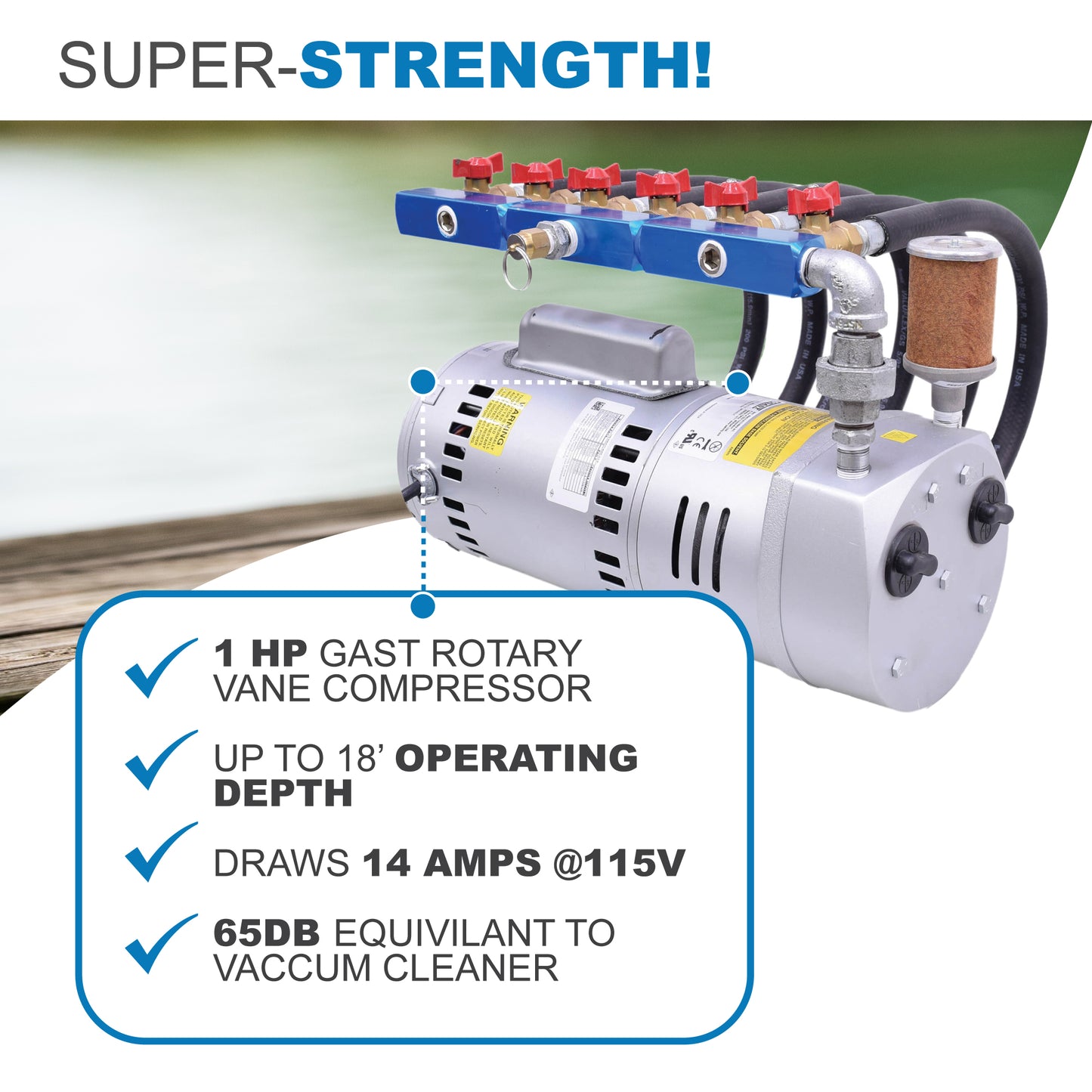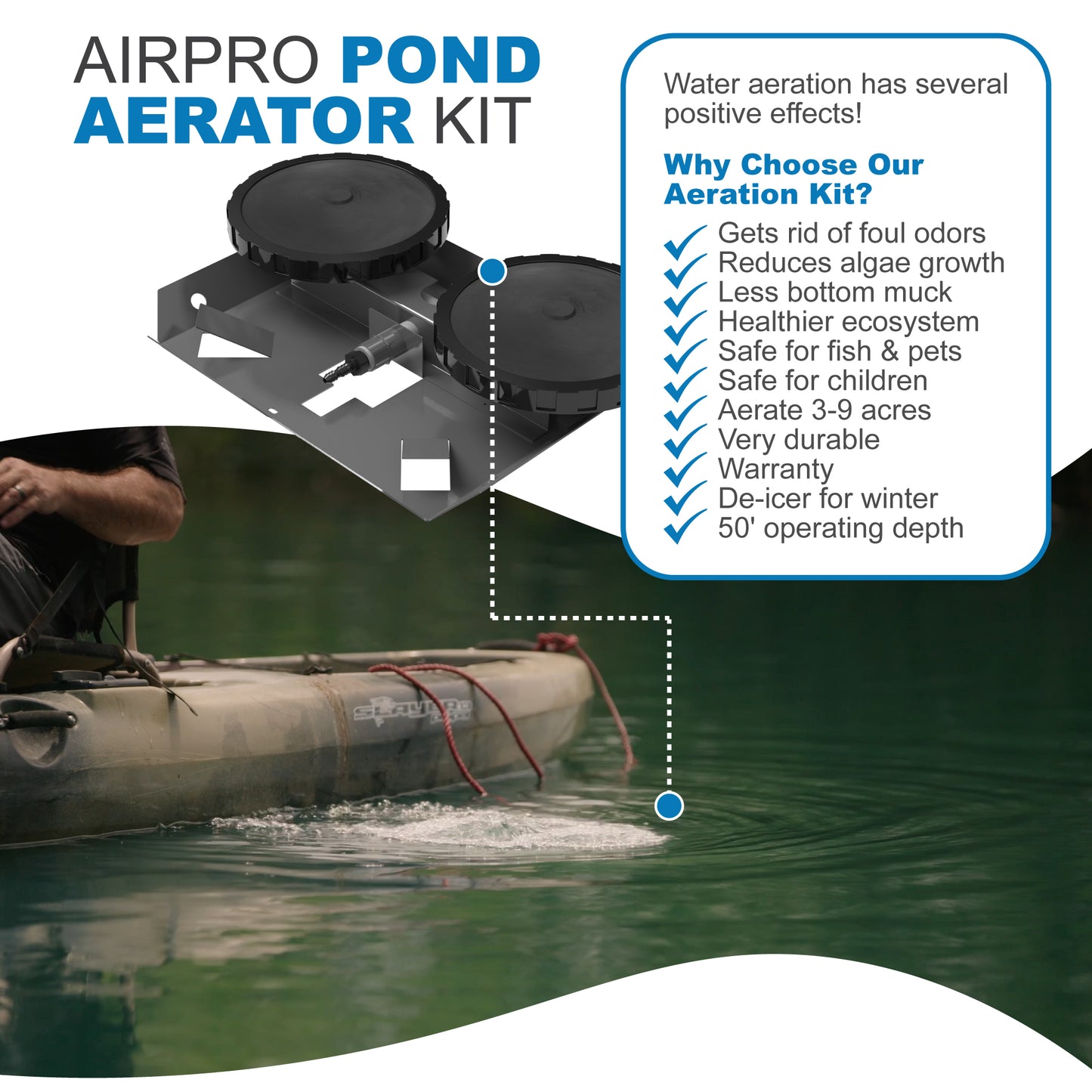 This is a pond system designed to keep large volumes of water clean and properly aerated and is an absolute must-have. The AirPro Deluxe Kit will help you reduce the presence of aquatic midge and algae growth and provide you with the perfect habitat for fish and plants. Its safety is ensured by not having any electricity in the water.

The kit is suitable for three to nine acres ponds and has nine Dual Head air diffusers. You can even aerate multiple ponds using this aerator. It includes a lockable steel cabinet with an air compressor as well as a cooling fan installed, which makes the aerator easy to place in your pond.

The aerator is equipped with 800 feet of 1/2" weighted tubing, that will sink by itself and stop at the bottom of your pond without additional weight. This type of insulation should not only be an easy one but also should reduce the risk of the airline being damaged by swimmers or fishing lines. Please note that illustrated installation guidelines are featured on the product webpage.

Taking care of the kit is required only in the form of replacing the vanes from time to time. You can find the repair kits on the website if you need them. Also, remember to wash the filters with soapy water regularly to guarantee the aerator is working correctly.
Kit Includes:

Large Cabinet with Fan
1 HP Gast Rotary Vane Compressor 65db
(6) Dual head air diffusers
(6) Valved outlets
Fittings and clamps
1/2" 800' weighted tubing - 100ft per roll
Can also be used as a de-icer in the winterime
13.5 CFM
14 amps @115v
7 amps @230v
call if need 500ft rolls
| | |
| --- | --- |
| Max Depth | Max Pond Size |
| 5-8 feet     | 3 acres |
| 8-12 feet  | 5 acres |
| 12-18 feet |   9 acres |

Pond Aerator Installation:
Installation Instructions are available in our brochure.
Click here to access a downloadable PDF version.
We also have an illustrated guide that walks you through step by step.
Click here for access to the illustrated guide.
Feel free to call us if you are unsure of what kit to purchase and we will be happy to assist you: 1.888.775.2402
Try It Today Risk Free with Our Unbeatable Warranties!
*Stock is limited. Order today to ensure availability.
Order Your System Now and Keep Your Pond Clear!