ITEM #: PCW0225_BlueWhite
Sale price
$3,69500
Regular price
Unit price
per
Sale
Sold out
Estimated Arrival:
5 to 7 business days
View full details
Best Price Guarantee
Return Policy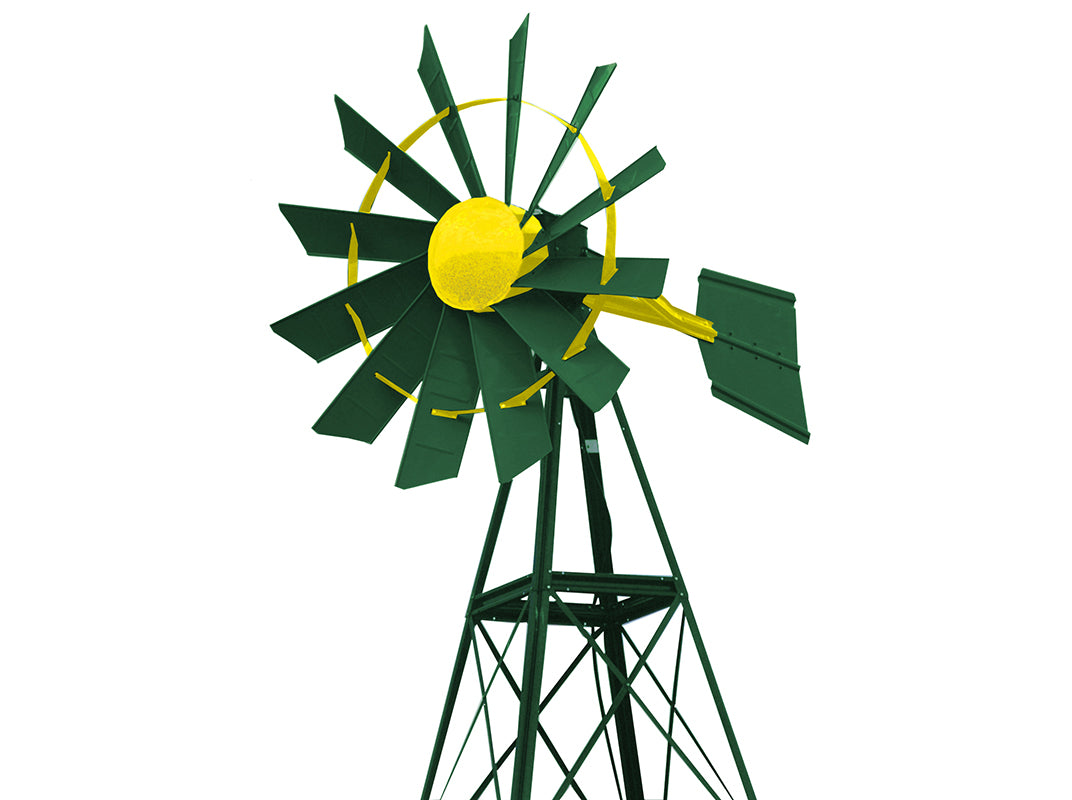 The 4 Legged Powder Coated Windmill Aeration System includes – Air Stone Diffuser and Foot Valve, 100′ of Regular Airline, 50′ Weighted Airline, Hose Connector Pack, Tower Hinges and an optional Personalized Tailfin.
The total height of the 24′ 4 Legged Powder Coated Windmill is 27′ to the top of the windmill blades.
This 24′ 4 Legged Powder Coated Windmill is a single diaphragm powder coated windmill aeration system that comes in your choice of any two colors, with one or both being custom order colors, or you can choose from our standard colors.
Customize your windmill and paint the following sections of your windmill any which way – Blades, Braces, Tail, Tower, Dome.
The blade diameter on all units is a full 73″ in diameter, which is the largest windmill head on the market for pond aeration. This allows our units to pump up to 4.5 CFM of air and still turn at low wind speeds due to our windmill heads' higher torque. We can also produce up to 30 psi of air allowing these units to aerate ponds or lakes that are 10′, 20′ or even 30′ deep.
Let us design and custom powder coat a 24′ 4 Legged Powder Coated Windmill Aeration System that you'll be proud of for years to come!
The Outdoor Water Solutions Wind Driven Aeration System offers:
"BalCam II" technology minimizes bearing fatigue with new Stainless Steel components
Patent-pending new design
Fast & Easy Assembly
Manufactured with high quality 18 gauge galvanized steel
Newly redesigned blades and front dome assembly for better airflow
Self-governing head to protect the unit in high winds
New secure locking mechanism that attaches the windmill head to the shaft
Larger check valves and upgraded ½" airline to handle the increased air that is produced
High Air Output – 3.0-4.5 CFM rating Rated at 30 psi
Full five-year warranty on bearings and cams!
Available in the following colors:
Blue & White
Forest Green
Green & Yellow
Red & White
Bronze
Custom (1 or 2 colors)
Optional Deluxe Accessory Kit for Powder Coated Windmills
Deluxe Accessory Kit for Powder Coated Windmills upgrades any of our many powder-coated windmills to a Super Premier version allowing you to aerate bigger or odd-shaped ponds.
This Deluxe Accessory Kit for Powder Coated Windmills provides everything you need to get your windmill up and running. It includes 150′ of ½" weighted airline, which allows you to place the airstone anywhere in your pond for maximum aeration. The airstone itself consists of a backflow valve, and the rest of the kit includes a hose connector, 2-way selector valve, and foot valve to keep it fully functioning. Plus, with the decoy marker and airstone housing bucket, the kit makes maintaining your windmill aeration system more convent. 
This Kit Includes:
150′ of 1/2″ Weighted Airline

A Airstone with Backflow Valve

1 Foot Valve

A Airstone Housing bucket

1 Duck Decoy Marker

A 2-way Selector Valve

Hose Connectors