ITEM #: 3400HAF050
Sale price
$1,34500
Regular price
Unit price
per
Sale
Sold out
Estimated Arrival:
5 to 7 business days
View full details
Best Price Guarantee
Return Policy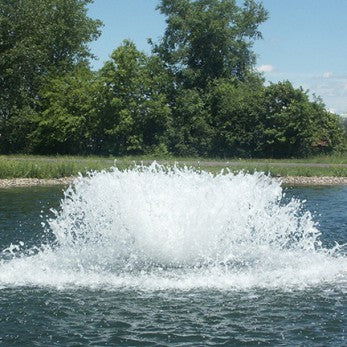 Secret To Pond Excellence
Whether it's fresh or salty water, Kasco ¾ HP Surface Pond Aerator is the ideal choice for any small (up to ¾ acre) and shallow (from as little as 17.5'' up to 6 feet deep) pond. 
Designed for the highest efficiency, maximum pumping volume and circulation, this model is extremely reliable and durable - that's probably why it's considered to be one of the leading products in the industry. According to tests conducted by Auburn University, Kasco's aerators' Standard Aeration Efficiency (SAE) is up to 3.0 lbs. of oxygen per horsepower per hour of operation which is actually the best efficiency from all units available on the market.
Its motor uses ¾ HP drawing as little as 230V. It has thermal overload protection and two of long-life bearings. It will have no problem to run for 24 hours, 7 days a week if needed, but if you don't want that, you can set a timer that will turn it on and off automatically. 
The installation of the unit is as easy as ABC and 100% safe. It comes with a motor and a power cable that is approved for underwater use. A control panel and an optional bottom screen are both available to buy on our website as well. 
210 - 230V 
 3/4 HP operates in as little as 17.5 in. of water
 Optional control panels feature human-rated GFCI protection
 2 Year Warranty
In case of any questions, give us a call.