ITEM #: PA86W
Sale price
$2,09900
Regular price
$2,48900
Unit price
per
Sale
Sold out
Estimated Arrival:
5 to 7 business days
View full details
Best Price Guarantee
Return Policy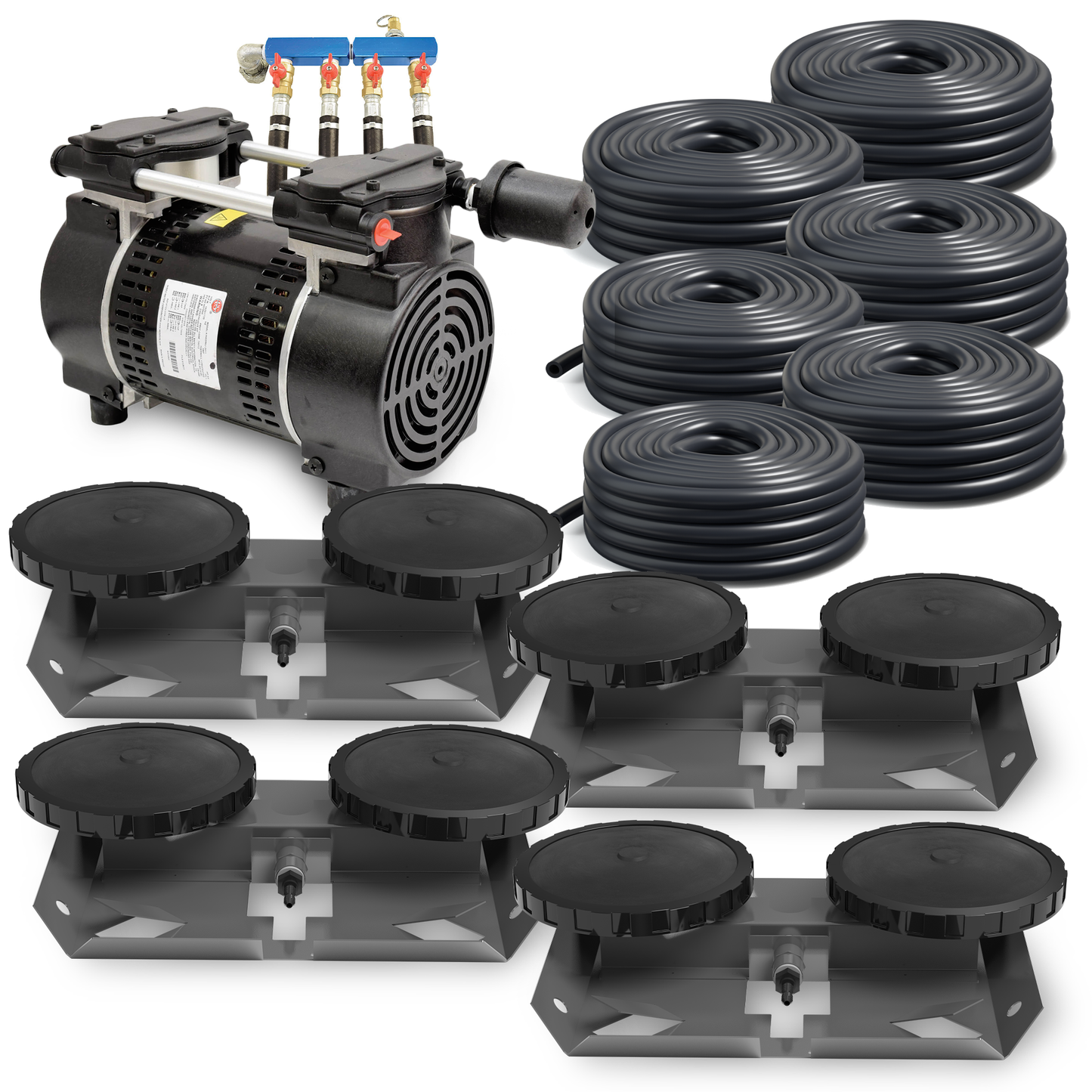 If you want to aerate a 50' deep pond, and are looking for equipment that would handle the pressure, then look no further! This system is powered by a ¾ HP piston compressor and includes everything that you will need to aerate ponds up to 4 acres big. You can get the compressor in 115v or 230v, amp draw is 5.7 at 115v, and CFM air output is 7.5.
What are the benefits of choosing a Living Water Aeration pond aerator? 
Efficient, affordable system

Safe - no electricity in the water

Helps remove excess nutrients including muck on the bottom

Helps control algae and weeds

Gets rid of bad smells

Proper water circulation

More dissolved oxygen for fish

Fewer mosquitoes
Kit includes:
3/4 HP Stratus Piston Compressor (Made in the USA)

4 dual head air diffusers

600' weighted Tubing

7.5 CFM

Can operate up to 50' depth

Valved outlet

Fittings and clamps

In the winter it can also be used as a de-icer

2-year warranty

4.5 amps @115v

2.3 amps @230v
Sizing Chart:
| | |
| --- | --- |
| Max Depth | Max Pond Size |
| 5-8 feet     |  1.5  acre |
| 8-12 feet  |  2.5  acres |
| 12-25 feet | 4 acres |
Safety:
600 feet of 3/8" weighted tubing that is included is easy to install - it will sink to the bottom of the pond without any help! It won't ruin the esthetic value of the pond, and swimmers and fishing lines won't damage it. Pets and people can come to the water with no problem - there is no electricity in the water.
Maintenance:
The kit does not require a lot of maintenance. You will only need to replace the diaphragms if there is a sudden drop in air bubbles, which will most probably happen every few years. If you want to ensure that the inlet air filter lasts you long, then remember to clean it regularly using soap water. If it gets irreversibly damaged, you can order a filter from our website.
Pond Aerator Installation:

We have prepared an illustrated guide that you can view here.  

Click here to access a downloadable PDF version.

PLEASE, NOTE
The compressor might be damaged if it is left unprotected. If you want to make sure that it is safe even during bad weather, check

Cabinets

or

deluxe kits
To avoid the engine of the compressor being damaged by dirt or dust, it should be placed on an elevated ground. 

Even if you protect the compressor from the external threats, you should make sure that it isn't damaged by overheating! Remember about the cooling fan!
If you have any questions about our products, then don't hesitate to contact us. We are here to help you: 1.888.775.2402
*Stock is limited. Order today to ensure availability.