ITEM #: PA50D
Sale price
$2,29859
Regular price
Unit price
per
Sale
Sold out
Estimated Arrival:
5 to 7 business days
View full details
Best Price Guarantee
Return Policy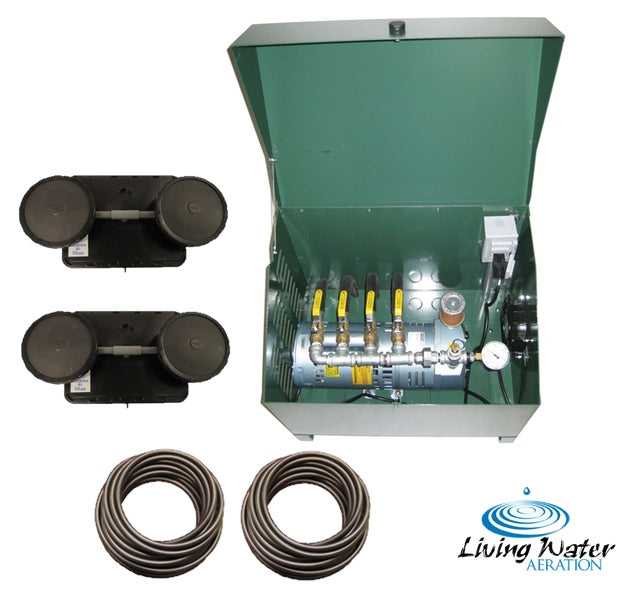 This unit can effectively aerate ¾ acre to 2 ½ acre ponds depending on depths(see chart below). This system is the best kit we know of for ponds under 18'. We highly recommend the rotary vane compressors because of their high volume output they remain among our bestsellers.  Produces 4.2 CFM of air, draws 5 amps. Motor available in 115v and 230v.
Living Water Aeration™ pond aerators are efficient, affordable and safe systems for circulating and adding oxygen to large volumes of water.  Our pond aeration systems are guaranteed to increase oxygen levels in your pond. Also these systems destratify, prevent oxygen depletion and fish kills. There is absolutley no electricity in the water, our pond aeration systems are safe for any type of water recreation. 
Kit Includes:
Large Cabinet with fan & oil pressure gauge
1/4 Gast Rotary Vane Compressor 

65db

Valved outlets (to control air flow between diffusers)
1/2'' weighted tubing  - 200 ft.
Two air diffusers with check valves
Underlay
Fittings and clamps
All systems come with compressor installed in cabinet with valved outlets, pressure gauge, pressure relief and air filter installed as well.
Cabinets include cooling fan and electrical outlet pre- installed
Warranties: Compressors - 1 year, cabinets - 5 years, diffusers - 5 years
Benefits:
Elimination of foul odors from undesirable dissolved gases
Elimination of low oxygen fish kills
Reduced nutrient levels and associated algae growth
Reduced aquatic midge and mosquito insect hatches
Oxidized/reduced organic bottom muck
Improved fisheries by expanding oxygenated habitat
Increased oxygen levels throughout water column
Safe entry - no electricity in the water, GFI protection on all circuits
| | |
| --- | --- |
| Max Depth | Max Pond Size |
| 5-8 feet     | 3/4 acre |
| 8-12 feet  |  1 ½  acres |
| 12-18 feet | 2  ½ acres |
PDF Files:
Pond Aeration System Instruction Booklet