ITEM #: OBGS-10-108
Sale price
$19,74565
Regular price
Unit price
per
Sale
Sold out
Estimated Arrival:
5 to 7 business days
View full details
Best Price Guarantee
Return Policy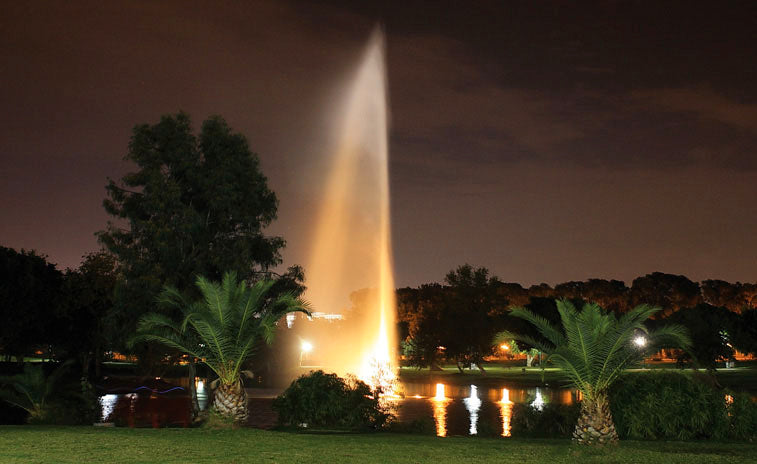 A Touch Of Elegance
Otterbine's giant fountains are often chosen by the best landscape architects to add an impressive feature to a project. Supernova model is even more remarkable - it can go as high as 95 feet (27 metres). It should be your choice if you aim for calling people's attention. 
The unit features a unique launching system that eliminates the use of cranes during installation, adjustable floatation level and float visibility, fibreglass power control centre and cable. If requested, it can include wind controls or soft start, motor controls and the LED lights package to provide people with the whole new experience when it's dark.
There's no need for a large reservoir, as it's been specifically designed to work in shallow waters up to 40 inches (1 metre). 
This extremely reliable product can be upgraded to work splendidly even in salty waters. The only maintenance it needs is unclogging the screen requires from time to time. Plus, you need to remember to take it out of water when the winter comes; you can't ever let it freeze. Both the motor and the pump needs to be stored in areas with the temperature above 32 degrees Fahrenheit (0 degrees Celsius).
You have an option to extend your warranty from 2 to 3 years. If you need any help with deciding on a product, let us know. We will be happy to help.
60Hz 
10 HP
15 HP
25 HP
Spray Height (ft)
55
70
95
Spray Diameter (ft)
1
1
1
GPM
225
350
400
Voltage/Phase/Amp

3450rpm@60Hz
230/1/35
230/3/30
460/3/15
230/1/67
230/3/44
460/3/22
230/3/70
460/3/35